Printer-Friendly | E-Mail Article to a Friend Go Back

| | |
| --- | --- |
| by Judy Antell | August 26, 2008 |
Sharon Levine found the perfect Bat Mitzvah dress when shopping with her daughter, Jodi.  It fit Jodi like a glove.  Two months and a cup size later, the Bat Mitzvah girl couldn't zip the dress and had to buy a last-minute replacement.

   When kids go through a growth spurt, they can shoot up seemingly overnight, but according to Dr. Morton Berman, a pediatrician in White Plains, growth usually isn't so rapid that an outfit won't fit at all.  He says, "When I see a kid at 12, I can predict that he'll grow two to four inches over the next year, but the growth is spread out.  It doesn't happen all at once."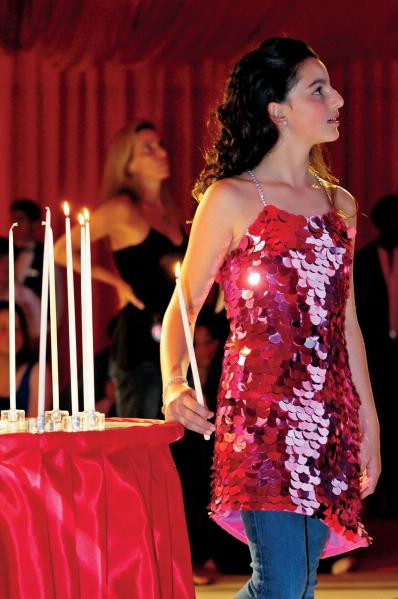 He acknowledged, though, that girls mature much earlier, and that their body change — "from nothing to something" — is quite rapid.  But according to experts in the field, at local dress shops, as long as a girl isn't choosing a skintight dress, alterations can resize a dress to fit a rapidly growing girl/woman.

   At All Dressed Up, in Rye Brook, owner Monique Gootkin says her onsite seamstress can refit a dress for a girl who shops early.  The store offers many custom dresses, which Gootkin says allow the flexibility of accommodating rapid growth.  The dresses usually take six to eight weeks. 

   At Lester's, which just opened in Rye (there are also branches in Manhattan, Brooklyn, Long Island and New Jersey), Carol Winter recommends that girls shop no more than three months in advance.  Winter, the girls and junior contemporary buyer, says that although Lester's starts showing winter dresses as early as the beginning of August, a 12-year-old should not choose her dress six months before her event.

   Boys can also grow out of their intended suits. Barry Kirschner, owner of the 54-year-old Lubins in Greenburgh, says his main concern when fitting a suit is education: "Because dress is so casual, no one really knows how a suit is supposed to fit."  In-house tailors at Lubins can handle last minute alterations; in a pinch, tailors at the store can turn around a suit in a day, though Kirschner recommends a bit more advance notice. 

   Toni Cohn, the boys 4-20 buyer for Lester's, notes that shopping for suits can be simpler than shopping for dresses because "styles don't change that much." But boys do! According to Kirschner, "Summer seems to be the time they change the most.  If a kid comes in before summer, we put the suit away and won't even let him get fitted."  Acknowledging that some parents have a "comfort zone" of wanting to get a jump on shopping, he says, "As long as no alteration has been done to a garment, we can change the size. We tell parents to come in two weeks before they want the suit hanging in the closet."

   Keep in mind, if you are planning to have your child wear his bar/bat mitzvah outfit to some of the many friends' celebrations that he will be invited to; some of these parties may take place months after your own child's.  Then, the planned outfit may be truly outgrown.  


What They're Wearing
   What are kids wearing to Bar/Bat Mitzvahs and parties?  Carol Winter, a buyer at Lester's, says that "short and shorter" dresses are in, as are "embellishments such as sequins and stones."  She is seeing "gold shifting into bronze."

   Toni Cohn, a boys buyer at Lester's, says suits now have flat front pants, not pleats, and jackets are two-button with a double vent back.  Where boys can stand out, she says, are with shirts and ties, explaining that pink is "a good pop color" and "lavender is the new pink."

   Monique Gootkin, the owner of All Dressed Up, notes that some synagogues don't want girls wearing gowns on the bimah, so some girls chose sleeveless dresses with a jacket that they can wear during the service.

   Teen girls are notoriously difficult to shop for (and with), which is how Gootkin came to open All Dressed Up.  She lives in Scarsdale and when her older daughter was shopping for her Bat Mitzvah dress, she couldn't find anything.  Gootkin chose to specialize in "special occasion" clothing so shoppers could focus.  "When I took my daughter to a store that had jeans, she was more interested in them.  I found that frustrating." 

   How dressy you want an outfit to be is dependent on the time of the party, though everyone interviewed said each party is different.  Cohn did add that there is "a step away from wearing a suit if you are going as a guest."

   Another trend is towards parents' convenience.  Barry Kirschner at Lubins finds himself scheduling more and more customers' visits by appointment, before or after hours, to fit into children's busy lives.  And Gootkin observes that since girls are so choosey, parents will often buy any number of outfits that a kid likes.