Printer-Friendly | E-Mail Article to a Friend Go Back

| | |
| --- | --- |
| by Adam Levy | August 27, 2008 |

   Planning your child's bar or bat mitzvah is no easy task. There are the mounting costs of the event, the frantic preparation, and the inevitable stress that comes with one of the biggest religious occasions of your son or daughter's life. There is also the fact that Bar and Bat Mitzvahs have increasingly become more like an elaborate birthday party than a respectful commemoration of your child's coming of age. Oftentimes it can seem as if the main point of each bar or bat mitzvah is to top the extravagance of the previous child's party. All of this can lead to an erosion of the significance of the actual event. Which leaves parents and synagogues trying to figure out the best ways to balance a secular celebration with the religious coming of age that bar and bat mitzvahs represent.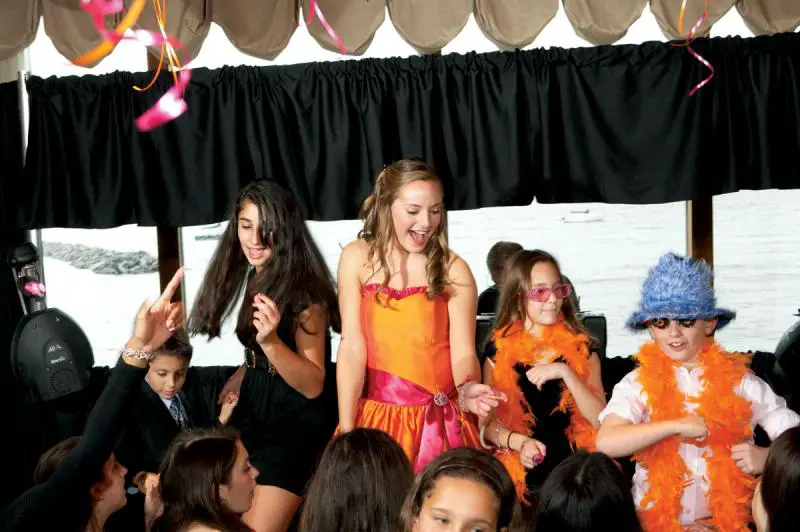 When I was around 12 years old, there seemed to be one or two bar or bat mitzvahs a weekend. My friends and I would look forward to the party afterwards and try not to look too bored during the service. And there was reason to look forward to the parties because they were oftentimes pretty spectacular. One girl's bat mitzvah had a circus theme, complete with clowns, trapeze artists, and a monkey. A boy I knew loved the Yankees, and his bar mitzvah involved not only decking out a massive hall to look like a baseball stadium, but also a few members of the Yankees signing autographs.

   Not everyone went the extravagant route though. Some kids had smaller gatherings at their house or a restaurant. They would normally just invite a few kids from our grade and have their families there. And far from being a let down, sometimes these parties were more enjoyable. It was a relief to actually be able to have a conversation without being drowned out by the loud and annoying DJ enticing us to get on the dance floor.

   Sherry Katz of Scarsdale, the mother of a recently bar mitzvah-ed boy named Daniel, expressed ambivalence about the growing pressure to have a bar mitzvah extravaganza. "I know the kids love them," she says, "but I can't help feeling like it takes away from the special-ness of the occasion. It's an important milestone and I wish the kids would think of it as more than just another party."

   Daniel's bar mitzvah was more subdued, she says. "We had the party in our backyard with about 40 guests. We served traditional kosher meals and people mainly just sat around chatting."

   It wasn't all just polite conversation though. "We also had a karaoke machine put in," she says. "I wasn't sure how it would go but the after some initial shyness the kids really got into it."

   It is not just parents who set the tone for the bar or bat mitzvah; temples have different approaches to the event. Cantor Margot Goldberg of Temple Beth Abraham in Tarrytown explains, "Kids won't say the best part is studying Hebrew, just like a high school student won't say the best part of high school is studying math."

   Yet there are ways of incorporating the teachings of the Torah into different aspects of the event. Cantor Goldberg says that kids not only have to learn their Torah portions, they also have to fulfill community service requirements though projects that they then have to talk about during their bar or bat mitzvah service. These requirements can involve anything from volunteering at the local Atria retirement community and putting on concerts for the residents, to helping children with disabilities play sports, to working at the Tarrytown Chamber of Commerce.

   When it comes to the party, Cantor Goldberg says, "Kids are always excited about the party aspect, and depending on the kid, the process of planning the party." The temple tries to help children find ways to incorporate some of what they have been learning into the event. They may suggest having guests bring items to donate to charity, or setting up an arts and crafts area where people can make items to donate to the group of their choice. One child, who had his bar mitzvah just before Purim, had guests participate in making Purim gifts (shalah manot) for the elderly. The goal of these "Mitzvah Projects" is to introduce children to the idea of Chassidim, which is about committing good deeds and giving back to the community.

   The key to a successful bar or bat mitzvah is making it work for your family and values. There is no right or wrong way to throw the event, but different temples and families will emphasize different aspects. While moms like Sherry Katz opted to go with a low-key party, other parents have thrown bigger events and been very happy with the results. The party Lawrence and Fran Levy held for their son Josh's bar mitzvah had a guest list of over 200 people (and a sometimes overwhelming budget). Yet they said that it was one of the great highlights of Josh's life and worth the stress and financial strain. They felt that although the party was large, they had struck the right balance of the secular and religious. Says Fran: "We felt it was important to make the non-Jewish families comfortable as well as celebrate our faith and our son." They are now planning the same kind of bat mitzvah for their daughter, Erin.

   A bar or bat mitzvah is the commemoration of a Jewish child making the transition into adulthood. There are clearly many ways of providing a balance between traditional values and the more modern emphasis on celebration. Yet the most important factor is making sure that your son or daughter is happy and comfortable. As well as realizing that a bar or bat mitzvah is more then just another birthday, and will be a memory to cherish for years to come.