Printer-Friendly | E-Mail Article to a Friend Go Back

| | |
| --- | --- |
| by Gwen Baker | August 27, 2008 |
One of the most powerful moments in your child's Jewish life is when he or she steps up to the bimah and faces the congregation to chant his or her haftorah.  The child's involvement and preparation is mainly in the academic and spiritual realm of the Bar/Bat Mitzvah process.  The parents, on the other hand, must tackle an assortment of details that will keep the day special for all. The ceremony, the party, the guests and most importantly, the Bar/Bat Mitzvah child have to be attended to with great care.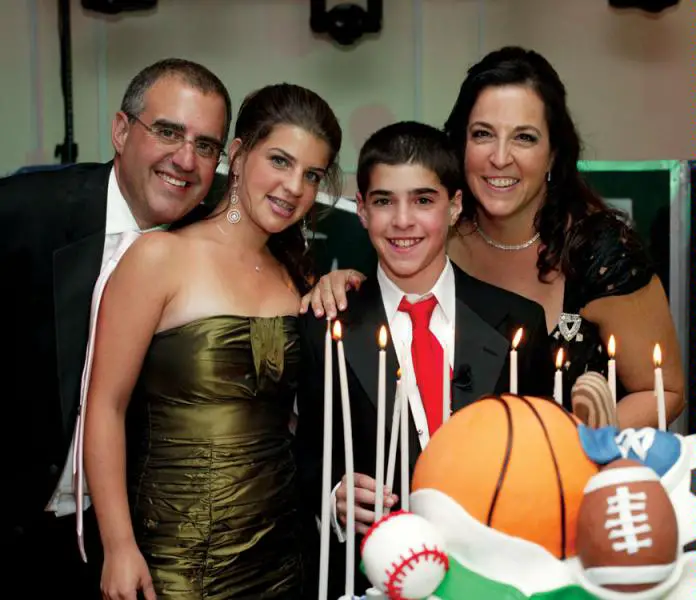 Planning the event can sometimes feel overwhelming.  For most parents, this is the first simcha they are organizing on their own.  For some, there is no question of how they will put together the day.  For others, a slew of issues can spring up and leave even the most normally 'together' parent perplexed and dismayed.



   The elements of the service are generally dictated by the Rabbi and ritual committee of the synagogue and Jewish affiliation (Reform, Conservative, etc.).  Generally, there is an outline for the Bar Mitzvah student, sometimes in the form of a handbook that includes the aspects of the service that he is recommended or required to lead as well as other responsibilities of the b'nei mitzvah such as a tikun olam project, e.g., community service outreach).
 
   A synagogue will also outline the ways other family members and friends can be integrated into the service.  Lori Popkin, a Westport mother of three, explains that it was important at her daughter Alex's Bat Mitzvah that her two younger brothers took part. 

   "We felt it was integral to include Alex's younger brothers in the service," she says. "Our two sons led the congregation together in Adon Olam during the service and made toasts to their sister during the party.  It's easy to focus on the Bat Mitzvah child solely since she is doing so much work to prepare.  Our boys felt very proud of their sister and of their own very important roles."

   How many aliyahs and what honors can be bestowed upon family members is usually dictated by the synagogue's policy.  Often, in addition to the Bat Mitzvah's parents, grandparents can each take an aliyah.  Other honors include opening and closing the ark, dressing the torah and leading the congregation in particular prayers.  The Rabbi can be helpful in directing which honors are appropriate for which family members. In many cases, close friends are welcome on the bimah as well.

   At Sheila Herbert's daughter Bethany's Bat Mitzvah, Torah portions were read not only by Bethany but also by Sheila and her father, mother, sister-in-law, and brother. "We were thrilled that so many family members were willing and able to read from the Torah at Bethany's Bat Mitzvah," says Herbert, who lives in Mount Kisco.

   There are ways to integrate a non-Jewish parent into the service.  Again, the synagogue's policy and a meeting with the Rabbi will clarify what is accepted. "We were concerned that my husband, Tom, who was raised Catholic but is very active in the temple, will not be invited on the bimah at our daughter's Bat Mitzvah next year," says Ronnie Stanford, a Westport mother of three.  "Tom's very involved with our children's Jewish education and also wanted to include his mother in the service in some way.  After meeting with our Rabbi, it was clear that he would have the opportunity to actively participate in the service.  The Rabbi outlined the ways in which Tom could be on the bimah during the service.  He also told us what Tom's mother could do to take part as well."

   Rabbi Ron Fish, of Congregation Beth El in Norwalk, CT, says, "A crucial piece of celebrating Bar or Bat Mitzvah is, of course, recognizing the parents whose dedication and commitment has made their child's Jewish future possible.  All parents who have helped their child arrive at this milestone, no matter their religious identification, are worthy of being recognized.  We therefore set aside some time during the service when parents present their child with a tallit and, if they so choose, they may say a few words to their child.  This is not really prayer, which is reserved for Jewish individuals in a Jewish prayer service, but is granted by the community to the family to recognize their dedication.  We believe that maintaining a distinction in prayer is a way to demonstrate the integrity of the choices of all the members of the family.  Today, when conversion to Judaism is readily available, acknowledging the choice of a parent who has raised a Jewish child but decided for their own reasons to remain outside the Jewish faith is a sign of respect."   

   Another issue is the inclusion of a stepparent in the festivities and service.  The most important issue, according to psychologist Meredith Bukzin, is to "make this aspect of the event as stress-free as possible for the Bat Mitzvah child.  It is important that the divorced couple come together in as united a front as possible for the sake of the child, leaving the emotional baggage out of the day.  It's such an emotional day for the child and the child's family — it should be full of joy."

   Planning the celebration can also bring its share of complications. Decisions as to whether to host a day or evening reception, the site of the reception and the size of the guest list must all be addressed. The parents alone must decide what is right for their family and for their child.  A large evening black-tie event with hundreds of guests sounds like heaven to one family and a nightmare to another.

   Fran Karp, a mother of three in Scarsdale, has planned three very distinct Bar and Bat Mitzvahs.  She says, "Each event represented a different time in our family's experience. The first Bar Mitzvah was a large celebration that included friends of our own parents as well. As our family aged we downsized each affair with less focus on the adults at the party and more on the Bar Mitzvah child."

   Susie Blumenfeld, Westport mother of three and owner of Pink House Productions, LLC, a party planning company, helps families with these matters. "When I first meet with Bar/Bat Mitzvah families, I begin by letting them know that the party has to reflect the style and taste of the family, not the planner," she says, "and that the celebration does not define who they are. It is merely a celebration. There is no 'right or wrong' decision.  It has to work for their family.  After getting to know the child and their family, it is fairly easy to determine what type of affair they will have: DJ, decor, etc.  After all is said and done, the best part of the process is getting to know another family and helping to plan such an important day in their lives."

   Rabbi Fish adds, "The central meaning of Bar or Bat Mitzvah is celebrating the entrance of a new young adult into the ranks of the community.  Their personal accomplishments and increasing mastery over Shabbat services are really means of expressing their own commitment to being fully Jewish. So for us at Beth El it is important to stress that the Bar or Bat Mitzvah service is really a community event in which this pivotal personal occasion is celebrated.  It is not a private affair that invitees attend.  Rather their lifecycle event is embedded in the community."

   This is a message Sharon Rosen took to heart.  "We invited our entire congregation to my son's Bar Mitzvah kiddush," says Rosen, a Connecticut mother of two.  "We wanted this to be a celebration of our son becoming an adult member of our Jewish community.  Now that he is to be counted as part of the minyan, we wanted to share this with our family, friends and fellow congregants.  We didn't feel compelled to have a party with a DJ and party favors — it wasn't the right fit for our older son.  Our younger son, however, wants a 'kid party' that will include only his friends with a DJ and dancing in the evening.  Each child's personality should be celebrated accordingly."

   Jeanne Rosen, a Larchmont mother of two, agrees, explaining that keeping her sanity and the guest list manageable was a big consideration. "I had both my daughters' luncheons at The Globe in Larchmont, which can comfortably fit about l20. So we had a definite limit and that helped. Keeping my sanity was knowing our invitation list was really just the people we wanted, no more and no less, and we told people from the get-go that the place can only accommodate a certain amount so please understand that we want a low key (but nice!) celebration."

   Of course, there are many alternatives to throwing the party of the century.  Michelle Titlebaum, Westport mother of four, decided that after her daughter Erica's "traditional" service and party at a local hotel, the family, with extended family in tow, would be doing her son Jake's Bar Mitzvah in Israel.  "Although Erica's service and party were meaningful and lovely, our family felt that going to Israel would really capture the spirit and significance of becoming a Bar Mitzvah.  It was one of the most valuable and momentous experiences that our family has ever experienced. Being together as a family to experience Israel in celebration of Jake's Bar Mitzvah was truly amazing."
   The celebration guest list can also be a stress inducer for the Bar Mitzvah family.  It isn't necessarily the time to invite your third cousins from Des Moines that you haven't seen in 20 years.  It may also not be the best time to include work associates unless you have a close family tie to them. 

   "This is a party to celebrate your child's coming of age — not a time to impress acquaintances," says Sharon Navarro, Westport mother of three.  "We tried to include guests that had some kind of connection to our son. We also encouraged our son to invite friends who were most special… this was not a popularity contest.  We feel that you lose the closeness and intimacy of the event when you make the guest list too large.  The cost can get out of hand as well!"

   Creating a Bar or Bat Mitzvah day that is special can be a daunting task unless you remain true to your family values and to the personality of your child.  Getting to the core of the day your child is welcomed as an adult to their Jewish community at large, celebrating a rich cultural Jewish heritage, and remembering the importance of family and religion should be the family's goals.