Printer-Friendly | E-Mail Article to a Friend Go Back

| | |
| --- | --- |
| by Cantor Ronald Broden | August 27, 2008 |
I grew up in a suburban community of New York City.  Being Jewish meant being a part of the majority where I was raised, and so as a child, I thought most people were Jewish. 

However, unlike other Jewish families, we never went to synagogue nor did I ever attend a religious school program.  My father, a psychiatrist, professional violinist and devout atheist, never imagined sending my brothers or me to the local temple. My childhood revolved around music — in my case, twice weekly cello lessons since the age of 7 and practice sessions of at least 90 minutes on the other four days of the week (Sundays were not required).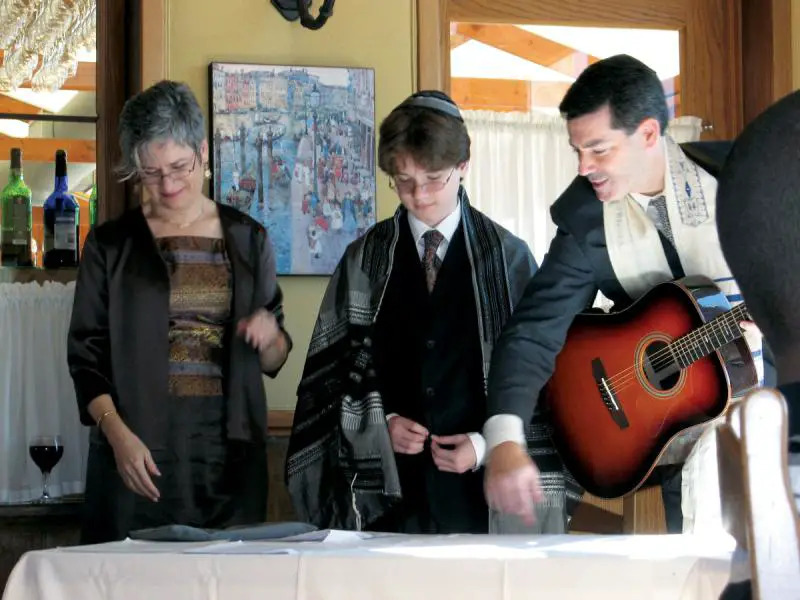 When I turned 11, my mother insisted that I receive some Jewish education.  She found a cantorial student living in the area who came to our house once a week to tutor me in Hebrew language, prayers, holidays, traditions, lifecycle and history.  I looked forward to those sessions and, after two years, he performed a Bar Mitzvah ceremony for me in our backyard.  Everyone thought it was great!

   Years later, the combination of my spiritual journey as well as my musical passion led me to study to become a cantor.  A cantor is a Jewish clergy who works alongside a rabbi, but is responsible for the musical aspect of synagogue life and worship.  To be a cantor, in addition to a strong Jewish educational background, one must possess a fine singing voice and musical competence to be able to direct choirs and create musical programming.  My father was somewhat stunned, but probably had seen it coming. 

   Following graduation, I served a large congregation in which there were up to 85 B'nai Mitzvah a year.  There was no such thing as a child being the only Bar Mitzvah on a Shabbat morning.  All the children were paired and, occasionally, tripled.  I prepared the children from soup to nuts — in other words, from the basic prayers through to their D'var Torah (speech about their Torah portion). 

   I worked alongside an older rabbi who was set in his ways and, clearly, rather burned out with all the Bar/Bat Mitzvahs.  Every Shabbat morning, the Bar/Bat service was the same.  There was no room for creativity, no allowance of different customs incorporated; the prayer service was always the same and the rabbi's speech to the youngsters rarely varied.  After a while, I, too, became bored by the whole affair.  This wasn't what I had experienced as a child.  Why couldn't these families experience the meaningful, spiritual and personalized Bar Mitzvah I had as a child? No wonder people complain that the families are more interested in the party than the religious aspect.  I'd feel the same way if this is what I got from a spiritual experience!  Please don't get me wrong.  There are synagogues that provide beautiful services and the Bar/Bat Mitzvah ceremony in these temples can be wonderful. 

   While at this pulpit, I received a call from someone who had been a guest at a Bar Mitzvah there.  "Cantor Broden," she said, "I am friendly with one of your congregants and heard about the way you worked with their child.  I am not Jewish but my husband is and I was wondering if you ever do private Bar Mitzvahs?  My son has never attended Hebrew School." 

   That was the beginning of what would be many private ceremonies that I conducted.  It gave me the opportunity to create the ceremony that the families wanted and the fulfillment of being able to do more than just be "the singer" by leading the whole ceremony.  No matter how well I sang at my temple at a Bar Mitzvah, I rarely felt good about the service.  Now, I would leave a ceremony feeling as though I had created something special, and the positive feedback truly meant something to me.

   My personal path took me along different routes.  Now I have come full circle and returned to providing what I consider a vital service.  For interfaith families in particular, the choice to raise children with both traditions at home is not as hard as to say, "This is the religious school our children will attend."  I agree with Jewish clergy who feel that educating children at both Jewish and, say, Catholic religious schools sends conflicting messages.  So what of the families who light the menorah (Chanukiah) on Hanukkah and participate in Passover Seders but have chosen not to send their child to a Jewish religious school?  Reform synagogues will often deny Bar or Bat Mitzvah to any child who has not attended religious school from the third or fourth grade on, yet Bar Mitzvah is something that a Jewish child automatically becomes, according to Jewish law, by reaching the "age of majority." 

   Perhaps in my middle age I've become too accepting, too liberal socially and religiously.  Perhaps I am wrong in believing that we don't lose Jews to intermarriage, but that we lose them because what we are offering (or not offering) doesn't connect. 

   What I offer is an alternative to Bar/Bat Mitzvah as the culmination of many years of religious school study and synagogue attendance.  I love to perform creative, meaningful, explanatory, joyful B'nai Mitzvah ceremonies for people who cannot have one in a temple or find that option unappealing for a variety of reasons.  There are no rules in my ceremony.  Torah blessings may be recited by the non-Jewish partner or guests just as they would normally be done by Jews.  While every Shabbat has a specific Torah portion associated with it, I believe that a child and the family can choose to recite from and speak about that specific portion or, simply, choose another one.  Why?  Because many parashot (Torah portions) come from sections of the Torah dealing with very antiquated laws and rituals.  For a child to speak about the message of his/her reading, it is ideal for the child to be able to connect with the content.  Many synagogues do not allow parents to address their child at the service.  I used to tell parents that this was policy "in order to avoid any inappropriate remarks that a parent might make" as I could not tell them that the rabbi couldn't abide any inclusion that would make the service any longer.  At my ceremonies, parents, family members, and guests are all welcome to speak to the Bar/Bat Mitzvah child publicly.

   A kosher Torah scroll is prohibitively expensive, yet a non-kosher one is dramatically less expensive and one which I have acquired.  What makes it non-kosher?  Just as kosher meat becomes non-kosher if sliced by a knife that also is used to cut cheese, so does a scroll become non-kosher if the scribe has misspelled a word or two.  This is an imperfection that is well worth the price.

   Unlike a church, which in Christianity is considered to be a holy place, a synagogue is not at all the same.  In Hebrew we call a synagogue a Beit Kenesset, which means "a place of assembly."  Holiness in Judaism is achieved through communal prayer wherever Jews are gathered.  The basement of a home is equally as holy as a synagogue's sanctuary.  There is nothing irreverent about having a Bar/Bat Mitzvah ceremony in a home, country club, private room in a restaurant or a backyard.  Judaism is truly a portable religion, a religion that needs no home, only the voice of the people.  It is for that reason that we are still here today.