Your child has been preparing for months and the Big Day is just about here. You've been listening in to him practice and he sounds great!
You have also been working hard to get ready for this wonderful celebration. In addition to keeping your child on track, you have been juggling the caterer, entertainment, flowers, everyone's attire, speeches, seating arrangements and any number of other details. Whew! You've done it all, and now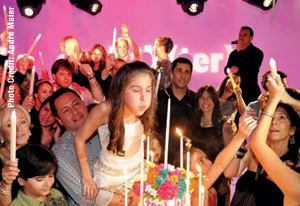 you're hours away from celebrating one of the most wonderful moments in your family's life....
...But, instead of pure joy and excitement, you're feeling stress and anxiety. In fact, you notice that your child is also showing signs of these. What's this all about? And what can you do about it?
Actually, after so much hard work and planning, it is normal for both you and your child to feel a little anticipatory anxiety. After all, you want the day to run as smoothly and successfully as possible. For your child there is the added possibility of performance anxiety - getting up in front of all those people and doing what she's been practicing for so long without making mistakes. Yikes!
However, the truth is that the more anxiety and stress a person feels, the more difficult it is to have fun. In fact, for your child, too much stress and worrying will increase the chance that she will make mistakes during her bat mitzvah, or that she will find it difficult to focus on really having fun during the celebration. For you, worrying and stress will diminish your enjoyment of your child's achievement and the celebration you have worked hard to create.
Luckily, I can offer you the 10 ways to reduce and even eliminate the worrying and stress that often occur in the final days, hours, and minutes prior to - and even during - your child's bar mitzvah. If you follow these, you and your child are much more likely to feel calm and composed, so that this wonderful milestone and the celebration that accompanies it don't fly by you in a blur of jitters!
1.For the two days before the Big Day, encourage your child to practice only minimally. Last-minute mistakes will increase her anxiety (and yours) and do not mean she will make these same mistakes during the main event.
2.Tell your child that even the most practiced and learned people make mistakes and that even though he has been practicing, it is expected that a 13-year old might do so, too. If he does make a mistake, most people won't even notice, and even the few who do won't be at all upset - and you won't be either. Remind your child that you are proud of his hard work and a few mistakes won't diminish that. Talk to your child about times in your life that you've made mistakes and still succeeded. When you convey this, he will be more likely to recognize that something less than perfect is acceptable, and will be able to relax, enjoy himself and, ironically, be less likely to make mistakes!
3. Forewarn your child - and just as importantly, recognize yourself - that with so many details, mistakes that are out of your control are inevitable (a relative isn't prepared for an honor, a requested song isn't played, a game is forgotten, the candles won't stay lit, the tablecloths are wrong, the flowers aren't quite right). These imperfections should not diminish from your enjoyment of the celebration. In the big picture, they are trivial.
4. During the last few days prior to the Big Day, enforce at least eight hours of sleep for both you and your child! Sleep deprivation can lead to, or increase, feelings of stress, being overwhelmed and having difficulty in coping.
5. Make lists! The more organized you are as the Big Day approaches, the less stress you will experience. Keep a notebook of all the final items that must be accomplished and check them off as they are done. Carry it with you everywhere so you avoid little scraps of paper, which get lost, causing even more anxiety!
6. Resist the urge to invite out of town guests to stay at your house. This is not the time to entertain, share bathrooms, or give up your privacy. Instead, ask close friends and family to house them for you, or give them the names of local hotels and leave it up to them.
7. A week or so before your event have a conversation with every contractor with whom you are working to make sure you and they are one hundred percent on the same page. This includes the caterer, event planner, entertainer, photographer, florist, and anyone else you have hired to provide a product or service for your event. Your conversation needs to include all details of your expectations (write these down in advance of each conversation, so you don't forget any). This will minimize the chance that you or your child will be upset or stressed on the day of your event.
8. Leave yourself enough time to get ready! Many families increase their bar or bat mitzvah day stress by not leaving enough time to make sure everyone is dressed on time. The tension of running late can impact terribly on an already nervous child. Therefore, in advance, think through every family member's needs - from dresses to hair clips; from ties to socks; from hair straightening to makeup; from shirts to kippahs. Make sure you allow enough time before leaving for synagogue and before the party for even the slowest, least organized member of your party to get ready. Lay out every item of clothing and accessory at least two days in advance - so, if necessary, you can make last minute purchases. Following this suggestion to the letter will save you and, most importantly, your child enormous stress.
9. Teach your child mindful deep breathing, and learn it yourself as well, because it is extremely useful for reducing stress. Here's how: Inhale slowly for a count of three, feeling your stomach inflating like a balloon. Exhale slowly for three, feeling your stomach deflating, like a balloon losing air. Repeat this at least five times or until you feel calmer. If you prefer, you can close your eyes. The more you practice, the better you get at it, and the more it helps you reduce stress.
10. On the days before - and particularly on - the Big Day, refrain from giving your child any last minute advice! No matter how you say it, this is often experienced by an anxious child as critical, and can elevate stress to an even higher level. Rather, a hug, kiss and "You'll be awesome, I love you," are most helpful.
One last tip: Be in the moment! Your child will only have one bar or bat mitzvah. As it begins, and throughout the celebration, make sure you are fully - physically and emotionally - present, enjoying every second of it. Don't let yourself become distracted by disappointing details - like incorrect tablecloths - that you can deal with that tomorrow. Don't spend the night gabbing with your best friend, catching up with one or two out-of-town relatives, or solving minor problems. Focus on your child - stay in the center of the celebration and enjoy every second of it. Remind your child to do the same, because it will be over in a flash!
Dr. Susan Bartell is a nationally known child, teen and parenting psychologist and author who practices in Port Washington, N.Y. Her latest book is Dr. Susan's Fit and Fun Family Action Plan. You can learn more about her at www.drsusanbartell.com. Dr. Susan is the proud mom of a bar mitzvah and two bat mitzvahs.
To view the pages in pdf form, click here.