Printer-Friendly | E-Mail Article to a Friend Go Back

| | |
| --- | --- |
| by Gwen Baker | December 20, 2010 |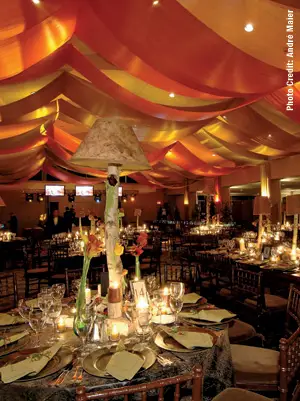 Here is some advice on throwing a really memorable party.
Part of my job as a publicist in my pre-mommy life was special event planning. On Wall Street in the '80s, the sky was the limit budget-wise and companies wanted to show off their success with lavish parties. Working with that kind of budget was a dream. Planning my two daughters' bat mitzvah parties (two years apart), however, presented more limitations. Of course, budget was a big focus, but so was the question of what kind of party our daughters would feel most comfortable hosting? What message did we want to give to our family and friends? We found answers that were right for us, but other families will come up with entirely different visions for their events.
For advice on throwing a memorable party and to discuss the current trends in bar and bat mitzvah celebrations, we collected a group of local experts for a roundtable. These party experts include emcee David Rice, Director of Entertainment of Hal Prince Music & Entertainment; party planner Susan Caissy Caruso of Susan Caissy Caruso Special Events; events decorator Diane Amante of X-Quisite Events; event planner Susie Blumenfeld of Pink House Productions; and, from the venue Bank Street Events in Stamford, Ted Steen.
That's entertainment!
What trends have you noticed in entertainment at Bar/Bat Mitzvah parties?

David Rice: One of the newer trends I have noticed is that the kids are requesting, and dancing to adult music, like classic rock and disco. Most likely due to hearing remakes on the radio and TV shows like "American Idol" - and they play games like "Rock Band" and "Guitar Hero." In addition, the adults have been requesting and dancing to the current hits. This combination has helped integrate the dance floor, rather than alternating kid sets and adult sets throughout the event. Another trend is adding live musicians and vocalists to perform with the DJ. We use plasma screens to display the montage, live footage from the dance floor, and spontaneous digital photos of the guests as the party is in progress. Break dancing and hip-hop have become so popular with the kids that we make sure to always include one or two break-dancers in our crew of dance motivators. We have also hired break-dance troops to come in and do a short performance during the event, and teach some of the kids.
Susan Caissy Caruso: A lot of clients do not present a traditional montage where everybody stops and watches the video. They just have a photo slideshow on a repeating loop and have it running on a plasma screen and this way people can watch it at their leisure during the course of the evening. Also, many clients are passing on the candle lighting ceremony altogether.
Outside of the emcee, DJ, and dancers, is it still popular for clients to book the extra entertainment, such as photo booths, crafts, and other live entertainers?

David Rice: We always suggest some kind of photo area, or photo booth for kids and adults. It provides the guests with a nice memory of the event. The girls still love the crafty areas. The boys love the old-fashioned sports games and the newer games like "Guitar Hero." A roaming magician is still a fun addition. So yes, our company is still booking extras. Given the state of the economy, we have become more flexible with pricing on the extras.
Susan Caissy Caruso: Most of our clients are doing less and less beyond the emcee, DJ, and dancers. They may choose one or two things that could range from an activity like the photo booth or decorating T-shirts or a magician.
What do you predict will be popular for entertainment for upcoming events?
David Rice: I see a bigger interest in live band and DJ combos. Many kids are musical and show interest in performing with a live band at their bar or bat mitzvah. For the kids who take dance, my staff of dancers and I are doing a lot more dance lessons and choreographed routines to be performed at the party.
Designing the party
Are themes still popular? If yes, what type in general?

Susan Caissy Caruso: Themes, or a "look and feel," are still popular. A single color or group of colors seems to be a big concept to focus a party around. We recently did a bat mitzvah that was all about orange and natural or neutral colors like linen and wood.
Susie Blumenfeld: Themes are still popular with some people. However, many clients are doing themes that involve the community. It may be a tzedakah theme or green theme. Themes may not be about the bar/bat mitzvah child. People are thinking more globally.
Diane Amante: Themes are not as popular as they were 10 years ago. The lounge look is still holding strong for children. Choosing a color palette is now the new theme. Walking into the room and feeling the essence of the color and seeing a beautifully decorated room is what clients want.

What trends in overall party design do you predict for the coming season?

Susan Caissy Caruso: Less glitz, more down-to-earth look and feel. Clients are choosing fewer games and less décor. We recently did an event, which had a bit of an environmental feel. We used bamboo disposable plates and utensils and natural fabrics. It still looked great and festive, but it was very down to earth. The lounge look is still popular for kids, as they like the feel of a grown-up club. However, we've used a lot of cocktail tables as well in certain venues. Long tables also can work well, too, to create a different look and feel.
Susie Blumenfeld: I think that more people are moving towards clean and elegant but happy and celebratory at the same time as it pertains to design.
Diane Amante: It's all about color. We all lead very busy lives now and I try to make the room a pleasing environment for guests to enter. Using less color and repeating it in a balanced fashion is the best approach for this. I try to stay with two to three colors at the most and showcase those colors throughout the room. The use of crystals, beads, water images, lighting, and accents of floral, botanical and organic are very popular. With flowers, monochromatic/monobotanic makes the best soothing, memorable impact.
There is a trend towards all lounge or alternative-style seating arrangements for kids and adults, which can create a fun, informal setting - however I have done some black tie in this fashion. The party is usually a shorter time length and needs to be organized differently as far as the time-line goes. Light-up tables, Lucite, glass, Plexi, crystals, beads and textured fabrics for linens are very of-the-moment. Finishing touches include great lighting. This makes the party look particularly hot. Silhouettes are still popular, projecting patterns with lighting images throughout. Some new furniture trends include using oversized props like lamps, home-decor accessories. These are a great filler to use for large spaces. We are also doing unique ceiling treatments with fabric and crystals and down-lighting rooms, which is the reverse of up-lighting.
Food glorious food!

What's the "hottest" party food?

Susan Caissy Caruso: There is definitely a trend towards a less formal meal for all guests. The small plates or stations concept is very popular. We also have many clients that serve the same food for both adults and kids. This works well if you are mixing in some favorite hors d'oeuvres like pigs in a blanket, mini burgers, macaroni and cheese and then moving to maybe an Asian cuisine or dinner. Everybody likes sushi, noodles and dumplings.
Ted Steen: For the adult food, we are seeing a pronounced trend towards extensive hors d'oeuvres and fun food stations, and somewhat away from seated dinner events. The food is definitely more fun and light in nature. We are offering more and more mini foods such as mini gourmet hamburgers, mini lamb chops, mini truffled grilled cheese sandwiches, mini gourmet ice cream cones and other fun mini-desserts. There is also a continuing interest in more global cuisines. We offer many different food stations featuring different cuisines of the world: Spanish station with paella and sangria; a Latin station with empanadas, flautas, and tacos; a Chinese station with stir-fried chicken, duck pancakes, and dumplings; a BBQ station with jambalaya and red bean and rice; as well as Japanese, Mediterranean, Seafood, Italian, Vegetarian, et cetera. Mini desserts paired with customized mini cocktails are also really popular. For kids food, we offer a menu of fun, unique stations with various fixings: gourmet pizza station, quesadilla station, mini hamburger station, noodle bar, All-American station, et cetera.
What's your take on the cake?

Susan Caissy Caruso: Not all our clients choose to have a cake. Instead of a cake we often do something more theatrical or unusual for the candle lighting. I recently used some beautiful silver candleholders that look like blooming flowers with very long tapered candles. It was very easy to see from anywhere in the room and lots of fun.
What are the trends with party favors?

Susan Caissy Caruso: If my clients want to give something to each guest I often design something custom, like a logo or a motif that we put on a hat or T-shirt or canvas bag. It's usually cool and something that they would definitely use. A lot of families are making a contribution to a charity on behalf of their guests. At a recent bat mitzvah and we had cookies made by the Lower East Side Girls Club, which is a non-profit in New York City. The cookies were designed to coordinate with our colors and logos and had a small tag explaining a bit about the Girls Club and the donation.
Budget-wise, wise choices.
Have you noticed any attitudes or trends that reflect the country's economic downturn when planning bar and bat mitzvah celebrations? Are families choosing a more low-key look and feel?

Susan Caissy Caruso: I have to say that most of our clients have fallen into this category for the last few years. Many, many people that have the financial means to do something more spectacular don't feel that it is appropriate for a teenager. I only see this continuing in the coming years.
Ted Steen: People are spending their money much differently these days. They are, in general, choosing to make more of a true party and less of a formal affair. They are spending their money much more carefully and making sure that, in the end, they and their guests have fun. Less frugal spending on trivial items that were just extras and did not really make much difference in the past. I think there has really been a big move away from renting expensive locations and then hiring a caterer and then also paying for all the rentals that need to be brought in. People can save almost 50 percent of the cost of a party by choosing a venue that has a caterer in-house and that does not charge exorbitant fees to rent a venue with no furniture or dishware. I think that market is very small these days, and quickly getting smaller.
Susan Caissy Caruso: When I initially sit down with a client I ask them if they have a budget in mind and most times they don't have a firm number, or maybe they do but don't feel comfortable about whether it is too high or low. So we start to list the priorities and come up with a budget together. In any given category there are wide range of choices, so I try to offer that perspective to all my clients and we always end up figuring it out.
Diane Amante: I've been in this industry for 30 years and everyone wants a great value, regardless. As we get closer to the final appointments, clients have been adding subtle details to give the party a bit more pizzazz, like printed menus, colored water goblets, soft room lighting, light up dance platforms, napkin trim.
Any last words?

Susan Caissy Caruso: Most of the parents I work with have given their children the opportunity to be involved with areas of the event that are appropriate. For example, most of my bat mitzvah girls have been involved with the color direction and maybe invitations. Some of my bar mitzvah boys have been involved with the menu and the music. It is important that the child feels like they have some input, but at the same time they are not being given carte blanche to have whatever they want.
PANELIST INFO
David Rice: Hal Prince Music & Entertainment
914-937-4700, 212-354-4100
www.hpmdjs.com; david@halprince.com
Susan Caissy Caruso: Susan Caissy Caruso Special Events
203-434-1481
www.sccevents.com, sccaruso@optonline.net
Ted Steen: Bank Street Events
203-325-2739; info@bankstreetevents.com
Diane Amante: X-Quisite Flowers & Events
914-632-8700
www.xquisitevents.com, diane@xquisitevents.com
Susie Blumenfeld: Pink House Productions
203-858-2193; Susie@Pinkhouseevents.com
To view the pages in pdf form, click here.