Printer-Friendly | E-Mail Article to a Friend Go Back

| | |
| --- | --- |
| by Melissa Rose | December 20, 2010 |

Imagine Peter Brooks' relief when a certain customer finally walked out the door of his Upper West Side shop, Portrait Bug, box of printed invitations in hand. That someone had been back 10 times, with "just one more little change" to make on each visit. Even then, he wasn't sure that he'd seen the last of her.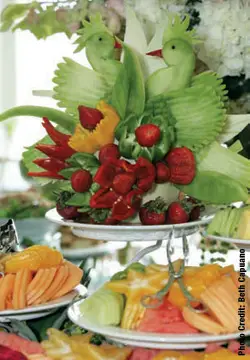 He's had parents planning a bar or bat mitzvah decide to completely change the artwork on their invitations and reply cards - after printing was underway. All that cardstock went right into the recycle bin, with the cost absorbed by the customer.
Indecision can hit you right in the pocketbook, and send your budget out the window. It also can make your caterer, florist or photographer crazy. Who cares? You, if you want your event to run smoothly.
It's not the top of anybody's to-do list, making the people you hire happy. Surely it's their job to serve - you know, the customer is king and all that. But give your vendors what they need to create the party of your dreams, and they will exceed your expectations.
No matter which service is being provided - flowers, food, music, or invitations - the number one thing vendors need to know is your budget. You need to know how much money you have to spend. This can be tricky, because most people think that buying services should be like buying items in a store. You educate yourself by looking at a price tag and compare it to similar items on the same shelf. Services aren't like that. They are usually available in a wide range of prices, even within the same company. So you need to begin with the parameters of your pocketbook. Here's how to be a great customer that a vendor bends over backwards to please.
DJs - AND THE REST OF THE CREW
Entertainment companies say that many parents' idea of a DJ comes from another era: one guy, one turntable and a pile of records. So it's not surprising that people think, "I'll call the DJ and he'll tell me what he costs." He will, but he wants to know what you are expecting. Do you want a one-person DJ or a whole production crew of DJ, emcee, video shooter, dancers, and motivator? Do you want plasma screens, and how many? Do you want to see projected images of a slideshow she can create, or live pictures of the dancers? How many lights and what type, flashing LED, colored gels to set amood, cutout shapes sliding across the floor? If you don't begin the conversation with limits, your DJ is liable to offer everything she's got, and you may end up with a much higher fee.
First, familiarize yourself with typical DJ packages, easily searched online. Then make a list of must-haves and another list of frills, and give yourself a price range. Making the list will help you to comparison shop, so you are comparing like with like.
Then make your calls. You can check with caterers, who often remember which DJs really had the party jumping (as well as who you should avoid). Ignore their set packages and tell them what you want, and how much you have to spend. Most entertainment companies are willing to work with whatever budget you provide, especially in this economy. Just make sure to have a signed contract with the specifics spelled out. If you want one particular DJ from a company that offers many DJs, make sure he or she is named.
· CATERERS (AND CONFECTIONERS!)
This is where you will probably spend the most money of your event budget, so establish how much you're willing to spend and name it early on. For that, you need to know what you are shopping for. You'll probably start out at the very least knowing if you want a seated dinner with several elegantly served course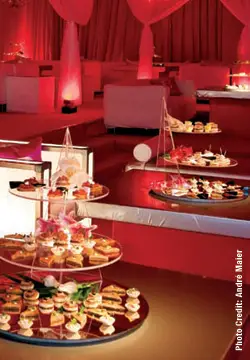 s, or a more casual buffet. Then again, you may not - so look around before you start calling caterers. Rebecca Martin, of Sweet On You in Stamford, says she loves it when a customer has already seen menus on her website and others, and comes in with those ideas. "It's great to have a direction,"
she says.
Sometimes people don't even know how many people they are going to invite. Have a general idea before you call, because the number of guests will limit some food options. Martin also warns that people shouldn't go too far the other way: "Don't have fully formed ideas," she says. Use the expertise of the caterer and allow them to come up with new ideas. For example, Sweet On You makes gorgeous sugar creations, live! "It's fantastic to see these made right before the delighted eyes of your guests," Martin says, and who'd ever think of asking for it? The professional confectioner's demonstration is also free entertainment that does double duty as a decoration and conversation starter.
Caterers also see a proposed budget as the beginning of the conversation, but a lot of customers see it as the last word. Caterer Robert Freiberg, who creates celebrations from the simple Kiddush to more elaborate candlelit dinners at the Sinai Free Synagogue in Mt. Vernon and elsewhere, says he is happy to work with clients once they receive his proposal and want to make adjustments. "I had a happy customer who got all the frills she wanted by asking me to have another look at the kids menu. I told her that my experience is that the youngsters don't eat much. So we reduced the amount and variety for the children, and she still had leftovers."
FLOWERS, PARTY PLANNERS, AND INVITATIONS
A floral designer might sound a lot more fancy and pricey than your local florist, but you'd be surprised. Peter's Wholesale Florist in Stamford can come up with a lot of drama without a lot of stems. "We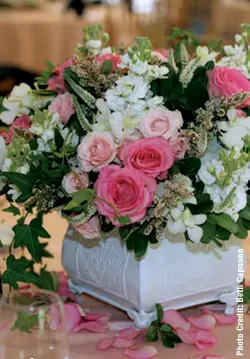 can make flowers go a really long way," they say. Because they're wholesalers, you avoid the middleman mark up.
Party planners also can give you access to the wholesale flower market and are expert at creating a look at many budget levels. Many party planners charge you for the food and rentals, but their expertise is thrown in free. This can save you money - not to mention headaches - in the long run.
When it comes to invitations, a lot of people are stuck in the dark ages. They think in terms of spending hours sitting in front of huge binders, trying to find a design they like. You can still do that, of course, but you can save yourself time and money with a little planning. Peter Brooks of Portrait Bug says you can supply artwork....take a digital image of art you find off the web - copyright cleared, of course - and it can be integrated into an original design. But if you come in with some idea of what you'd like, the whole process can be cheaper and faster. "We can give you printed invitations in a day or two if you walk in with the artwork and have the text already chosen."
As with all vendors, it helps to know what you want to spend. The more guidance and direction you can give your vendors to start, the smoother the whole process - and the happier the result - is bound to be.
To view the pages in pdf form, click here.