Joshua is a terrific athlete-he plays soccer, lacrosse, basketball and even a little tennis. Josh is also a good student and an all-round awesome kid. Do you have a Josh?
Hannah really loves her friends, gets excellent grades in school and is a bit of a perfectionist. She might melt d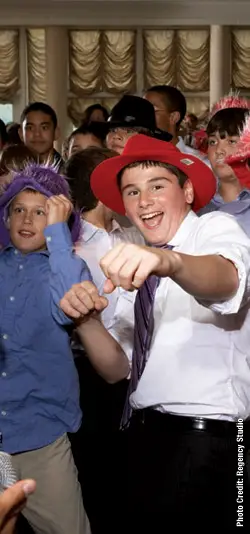 own if she has a B+ on her report card. Do you have a Hannah?
Tyler is a cut-up-school is where he masters his standup routine. Homework is for weaklings and the weekends are for sleeping and texting his friends. Do you have a Tyler?
Rachel is quiet and she loves to play the piano. In fact, she'd rather play the piano and read books than almost anything else. Do you have a Rachel?
Now ... think about how your child will approach the experience of preparing for his bar mitzvah. In many ways, it will reflect his personality and the way in which he copes in other areas of his life. In addition, the challenge of learning the new material and having to perform it in front of many people can cause anxiety for some kids. What's more, the process of event planning, being frequently asked to make choices-even fun ones-can be stressful for most pre-teens because they not accustomed to such intensive decision making (clothes, favors, theme, colors, invitations, seating, candle lighting, music, etc).
Therefore, as you begin preparations in advance of the big event, it is important to consider ways you can help your child structure her life during the year prior to her bat mitzvah. This will ensure that she can cope with the added excitement and help reduce possible stress. After all, she will need to keep up with school work, sports and her social life-all while mastering a new challenge that has a specific deadline and, in her mind, a great potential for public failure. What could be scarier for a middle schooler!
But guess what? By following the next six steps, you can ensure your child will have a successful pre-bar mitzvah year. A year filled with just enough excitement-but not too much that he is overwhelmed. A year filled with enough stress to motivate her to succeed (called positive stress or eustress)-but not too much that she is a wreck. And a year with just enough activity to keep him busy-but not so much that he is completely overwhelmed and can't enjoy his regular life or the bar mitzvah planning. Are you ready...
Step #1: Under-schedule your child this year.
Sign her up for one dance class instead of two; ask him to participate in only those team sports about which he is really passionate.
Step #2: Become the 'sleep police'!
Sleep is critical when a child is learning something new-such as all the material she will need to learn for her bat mitzvah. It is also essential when a child is juggling many things at once-for instance, a regularly busy life plus bar mitzvah preparations! The more sleep your child gets-at night, and by napping; on weeknights and on weekends-the more successfully he will cope.
Step #3: Make some decisions alone.
Although it can be tempting to include your child in every decision-from the colors of the yarmulkes to the colors of the tablecloths, this isn't necessary, nor is it in the best interest of your child. For one thing, you-the holder of the purse strings-should make some decisions alone. You don't need to give your child that power. In addition, it can be confusing and stressful for your child to make so many decisions. Pick a few pivotal decisions your child will make with your guidance-particularly in the areas that will affect your child the most, such as her clothing or the theme. Be clear about the budgetary requirements and also explain that you have final veto power. In general, girls tend to care more about decisions than boys.
Step #4: Discourage your child from trying any more new things this year.
Since preparing for a bar mitzvah is such a significant undertaking, it is a good idea to steer your child away from any other new activities, such as beginning to learn a new instrument or being in the school play for the first time. The added stress is simply not worth it.
Step #5: Resist the urge to save the world.
Your child will probably be required to undertake a community service or mitzvah project as part of her bat mitzvah preparation. Keep in mind that she will best learn the meanings of tzedakah (giving charity) and gemilut chasadim (acts of loving kindness) when she does much of the work herself, rather than you doing it for her. To achieve this, it is best that the project your child chooses be one that is close to her heart and simple to execute. Encouraging simplicity will also ensure a much less stressful project, which is essential given how busy her (and your) life already is this year. Your goal is to teach your child the importance of giving and for her to actually do some good-it is not to impress your friends.
Step #6: Instill the practice of planning.
A few preteens are natural planners, but most need a little coaching. This is the perfect time to teach your child how to plan each day and week in order to accommodate homework, bar mitzvah studies and extra curricular activities.
Dr. Susan Bartell is a nationally known child, teen and parenting psychologist and author who practices in Port Washington, N.Y. Her latest book is Dr. Susan's Fit and Fun Family Action Plan. You can learn more about her at www.drsusanbartell.com. Dr. Susan is the proud mom of a bar mitzvah, a bat mitzvah and a bat mitzvah-to-be in 2010.
To view the pages in pdf form, click here.