I remember trying on my bat mitzvah dress for the first time. It was in the '70s and the look was hippie chic (the first time around), so in keeping with the trends, I chose a canvas colored Gunne Sax dress that my mother deemed to be too low-cut. To my horror, she had the seamstress cut off a piece of the fabric from the belt to create a more modest neckline.
Now, as the mother of two recent bat mitzvah girls, I understand a little more about where she was coming from. For me, helping to choose the dress of their dreams meant balancing the taste of 13-year-olds, whose fashion sense has been dictated by what they have seen in the media, with my own wishes for taste and modesty. The fashion targeted at girls of bat mitzvah age found in magazines and on TV is not always synagogue-appropriate, nor is it always suitable for a girl's changing body. Coming up with a great dress that balances style and appropriateness is the biggest challenge.
Esther Berenstein, the self-proclaimed "Queen of Communion and Bat Mitzvah" at Lester's, a clothing store with locations in Brooklyn, Manhattan, and Rye, as well as on Long Island and in New Jersey, addresses the mother/daughter issue this way: "We tell all the girls that buying your bat mitzvah dress is like buying a car. You have to negotiate. 'Compromise' is the operative word in the dressing room."
Red Carpet and Torah-Ready
According to Katherine Cappok, operations manager of WishList, a store catering to girls from size 6 through juniors with four locations in and around Fairfield County, "Bat mitzvah girls used to want to look like fairytale princesses, but now they want to look all Hollywood glamour and red-carpet ready."
Although there are many bat mitzah girls who still want the ball gown, princess look, Berenstein says, "Girls of this age want to show that they are growing into women and want to show it off."
This coming season of party dresses presents a myriad of fashion solutions for all tastes and body types. The most stylish dresses tend to be shorter (to the knee) in bold and bright colors, two-tone contrasts or brights with black. Fans of the popular TV show "Gossip Girl" will want to wear ivory dresses with black stockings. And glitz is "going to be bigger than ever," says WishList's owner Suzanne Zarilli. "Beading and embroidered appliqués, delicate hippy chic as well as all-over sequins and shiny lurex with bling" will be all the rage this year.
Monique Gootkin of All Dressed Up, a girls' boutique with locations in Manhattan and Rye Brook adds, "The bat mitzvah girl still loves sequins, rhinestones, embroidery, and tulle; and pink is still the number one color choice. Due to the amount of girls having afternoon bat mitzvahs parties, we have sold plenty of short, cute, fun, clubby style dresses, but they'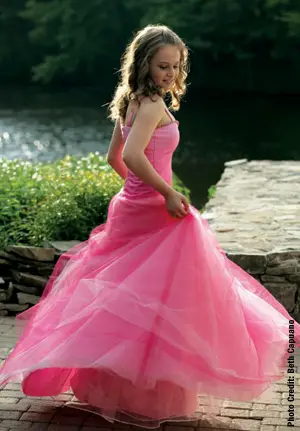 re special enough so they look different from their guests."

Zarilli and Cappok predict that high, empire waistlines will be popular and lace will be making a strong comeback. Dress shapes that are "fitted throughout the bodice to the natural waistline with a poof skirt à la Oscar de LaRenta" will be on all the fashion-forward bat mitzvah girls, Zarilli says. Although spaghetti strap dresses will also be in style, spaghetti straps alone are usually not appropriate for the service-that's when a shrug or shawl will work well. "Shawls or shrugs seem to be more popular with the younger girls, rather than a tailored jacket or dress with sleeves," says Cappok. A good dress shop will work with you to ensure the outfit stays appropriate for the girl's age and for the occasion.
Girls may want a fabulous new dress for each bat mitzvah they attend, but it's unnecessary for parents to foot the bill for such an extravagance. There are ways to make the most out of a single outfit. For instance, Cappok says, "WishList provides alternatives for cover-ups, accessories and shoes to adapt to the outfit, depending on the formality and situation of each occasion. We are also focusing more on skirts this season so that the tops can be interchangeable, making the outfit look different. "
Another way to budget well for the bat mitzvah party season is to go with metallic shoes, which are more versatile and work with a number of colors and styles. Flats are more in vogue than heels for this age group and dyeing shoes to match is a thing of the past.
Walk Like A Man
Lubins of Scarsdale's salespeople understand the economic sense of trying to fit a bar mitzvah boy in a suit they won't outgrow next week. "They have their own bar mitzvahs to wear their new suit and will also attend as guests, giving that suit lots of wear," according to Barry Kirschner, chief operating officer at Lubins. The goal is provide rapidly growing bar mitzvah "men" a suit with the potential for six months to one year of wear. While cost is always a consideration, it is still important to many shoppers to invest in a high-quality suit. "The bar mitzvah boy should look and feel great in his suit on his special day," Krischner says. His clients are already spending a fortune on all the other details for the bar mitzvah, he notes, "They shouldn't fall short on the suit."
Boys' suit trends generally follow the trends of mens' suits. Although navy is the most popular color for bar mitzvah boys, Kirschner says that clients are still choosing grey and black suits. Two-button jackets are popular, but Kirschner favors three-button suits for bar mitzvah boys as they create a longer line. Flat front and single pleated pants are also top choic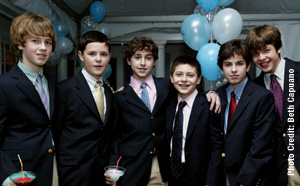 es. Kirschner says that suits can be made more interesting with a tie that can coordinate with other family members' outfits or even the party décor. Kirschner jokes that this aspect of the bar mitzvah boy's attire entails a lot of discussion.
At Lester's, they've seen a trend toward dressing-down, at least among the boys who are guests at the bar mitzvah. "This coming season, we've noticed that boys want a sharper, more club-oriented look - they want to look cool," says Barry Cohen, one of Lester's owners. "Usually, the only boy wearing a suit at a bar mitzvah is the bar mitzvah boy and maybe his brother, while the other boys, the guests, are wearing tailored dress pants and solid or patterned shirts that they leave untucked."
To view the pages in pdf form, click here.