So you've decided to plan your child's bar or bat mitzvah in Israel. You are yearning for a once-in-a-lifetime experience, and have visions of a sunset ceremony with the light from heaven streaming down over the backdrop of the Kotel (the Western Wall). This may, indeed, be a realistic and attainable vision; however, to pull it off it'll have to be a genuine group effort and a task that'll sometimes seems too much to tackle. But, if done right, the end r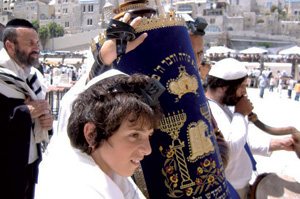 esult will undoubtedly prove worthwhile and rewarding for you, for your child, and for the chosen guests lucky enough to be in Israel to share this with your family.
We are certainly fortunate these days to have access to the Internet. I suggest tons of research. If you have never traveled to the Holy Land before, it's a great way to familiarize yourself with various sights of interest. There are at least 10 popular destinations to hold the actual bar or bat mitzvah ceremony itself, the Kotel being number one (at least for boys; bat mitzvahs are not held there). However, if you are lucky enough to have family members in Israel, it's possible they will either offer their own home or suggest a neighborhood restaurant for a more casual venue. A local synagogue may be the exact setting you want for your most special affair. A relative's mountainside home or courtyard may be the most appealing and intimate location for you.
If you chose to have your son's religious ceremony at the Kotel, keep in mind that it must be an Orthodox service, and it will be held amidst the normal bustle of prayer and tourist trapping that goes on there. An attractive alternative, however, for those wishing to have a private service, a non-Orthodox service, or a bat mitzvah in the Old City of Jerusalem is to have the ceremony right around the corner at the Southern Wall. Like the Western Wall, it is the remains of the ancient enclosure of the Temple Mount. Your congregation gets a nice view of the Judean Hills and the Mount of Olives, and gets to sit on the Hulda Steps, the ancient stone stairs that lead to the Second Temple.
When you have a bar or bat mitzvah at either wall, the Western Wall Tunnel Tour is generally part of the experience. This trip through the ancient tunnel adjacent to the Western Wall is a favorite activity, either as a build-up or a culmination to the religious ceremony. A Kotel bar mitzvah is technically free, and the Bar Mitzvah Center at the Western Wall will provide volunteers to lead you through the service. But some independent service leaders may charge you, and there is also a cost for the tunnel tour.
Reservations for a Wall ceremony and tunnel tour should be made far in advance. This is also true for other bar mitzvah destinations, including those at the ancient hilltop fortress of Masada (said to f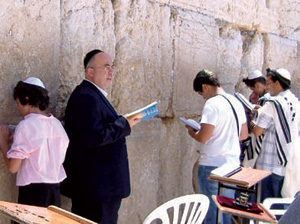 eature the world's oldest synagogue still in use) and other historic locations. Since summer is by far the most popular season, booking at least a year in advance is recommended. Also keep in mind that, in addition to Shabbat, bar and bat mitzvah ceremonies in Israel are often held on Mondays and Thursdays (the other two days on which the Torah is read). And be sure to arrange for your son or daughter to receive a signed certificate, suitable for framing, that recognizes the bar or bat mitzvah.
Because a Kotel bar mitzvah tends to be a fairly no-frills affair, how you choose to "accessorize" is entirely up to you. Considering hiring musicians to further enhance the bar mitzvah experience. They can be reserved with your package beforehand, or try your luck with a last-minute request. The prices are generally reasonable and always open for negotiation. You can also choose a local establishment for post-ceremony food and drink - there are many within walking distance. Reservations, of course, are strongly recommended due to the heavy volume during the select days and summer months.
I highly recommend Masada for a Bar/Bat Mitzvah location. Mount Masada is the site where Jewish refugees in the year 73, took their lives rather than succumb to slavery under Roman rule. This is the very site that King Herod's Palace once stood, the ruins are still evident. The Zealot's Synagogue is the mountain's crown jewel.
Ceremonies atop Mount Masada can be secured by your rabbi or travel agent. You can chose to have a reform, conservative or orthodox service. The views of the Dead Sea from this location are indescribable.
Getting to Israel can be costly, but many airlines fly there and bargains can sometimes be had berfore or after peak seasons. If you book a flight with a stopover, these can even be more affordable. Check all options by calling airlines directly as well as travel agencies. Once you're there, the options for accommodations are even more varied. When only the most luxurious will do, the world-famous King David Hotel in Jerusalem will satisfy even the most demanding traveler. The elegance is second to none, and the views in the heart of Jerusalem are gorgeous. If you're having a ceremony at the Wall, you can take a short walk or taxi back to the King David afterward for a schmooze in the magnificent lobby Treat yourself and your guests to before-dinner drinks in the bar and soak in the luxury. Of course, there are less expensive alternatives as well.
After the service, you'll hopefully get time to travel. I highly recommend a road trip to the southern tip of Israel, to the city of Eilat. This beachfront oasis is the perfect setting for a family to kick back. The scenery offers beautiful views of Jordan, the Sinai desert, and the Red Sea, while the boardwalk at night is alive with shopping and countless restaurants, c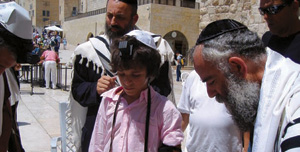 afés, and bars. There are, of course, lots of places to stay, but Herods Hotel is my personal favorite. Built to resemble a Moroccan palace, right down to the lobby furnishings, the hotel also has a top-notch catering facility and party planners on site. It's a great setting for a post-ceremonial gathering or blowout - the ultimate reward for my family's hard work and efforts in planning our trip. And on the way, consider a stop at a Dead Sea spa; a little refreshing and reviving will be a welcome treat.
Again, research is key. There are countless tours and highly experienced tour guides specializing in bar/bat mitzvah excursions. Utilize these websites. Also, try to get firsthand information from other families who have made these plans. Ask your synagogue to post requests for personal experiences or make an announcement at services. Most people will be thrilled to share helpful tips and plenty of details on the joy their trek provided them.
For my part, here are 13 of my own suggestions from personal bar mitzvah planning and travel experiences. They will, I hope, make your journey a little easier.
1.
Check the shek! Currency fluctuates; general knowledge of Israel's sheckel will make everything a lot easier.
2.
Do not over pack. Customs have become much more restrictive and more difficult to please. Call your airline just before your trip, since these requirements and restrictions are always being updated. Allow some spare room in each person's suitcase, because you will shop. No one leaves empty handed.
3.
Book hotels one star above the norm. I always try to step up a star when traveling to any hotel out of the country. Israel is modern and Americanized, but New Yorkers always expect more - so, for instance, forgo your usual four-star hotel booking and go for a five-star. If you are budget conscious, try booking a hostel. Hostels in Israel are comparable to those in other countries and can be a wonderful learning experience to actually see how this system works. Think sleep-away camp. Many kibbutz hostels are very modern and comfortable, plus offer loads of family fun.
4.
Do not anticipate danger. I have been on countless trips to Israel and the only fighting I have witnessed is among the shoppers and merchants haggling over prices of souvenirs. Israelis are accustomed to the possibility of a change in plans. If a situation does arise, there will always be options.
5.
Find a good travel guide. Check the Internet, and ask about different options for sightseeing. A good guide can make a huge difference in the stress level of your trip. I recommend a guide, or at least a partially organized tour, for first-time travelers.
6.
If your itinerary includes a road trip to Eilat or other towns, plan carefully. The road signs are easy to read but a wrong turn can easily put you in an unfamiliar area very quickly. Check with your travel agent and request maps and contacts offered in Israel. Confirm and reconfirm auto rentals and reservations just before the trip. Always ask for conformation numbers and carry them with you.
7.
If you are taking a laptop or handheld along, always backup your files before leaving.
8.
Bring backup camera equipment. Electronics are very costly, so a second set is a good idea.
9.
Ladies must pack lightweight shirts or blouses with sleeves, as well as below-knee-length skirts, to meet the modesty requirements at some religious sites. It is always good to pack a few that can be rolled up and stored in a travel tote to carry on daily outings. Hats are a necessity as well. If not for religious reasons, then for protection from the relentless sun. Sunglasses are a good idea, too.
10.
If you have young children or babies with you, consider having a trusted babysitter or designated family member along for your journey. I have seen many affairs ruined by unruly children or thoughtless parents. Keep in mind, this is a minimum of a 12-hour flight. You will be exhausted upon your arrival, and if your ceremony and party are within a few days of arrival, jet lag will set in. Someone trusted to travel with you may very well save your life.
11.
Make special arrangements for technology. Check your wireless coverage, or arrange to get a special travel cell phone, and purchase converters for electrical appliances.
12.
Keep in mind you are in a Jewish state. Friday is the Sabbath. Few retail establishments will be available for purchases of any kind starting Friday afternoon through Saturday evening after sunset. Think ahead of what you may need right away if you are arriving in Israel on a Thursday or Friday.
13.
Enjoy, enjoy, enjoy! This will, without a doubt, be one of your family's most memorable experience ever. Relish every moment. Mazel Tov!
For further information
Israel Ministry of Tourism
888-77-ISRAEL
www.tourism.gov.il (click on "Jewish Themes" to find "Bar-Bat Mitzvah in Israel")


Bar Mitzvah Center at the Western Wall
english.thekotel.org


Herods: www.herodshotels.com


Masada bookings:
Arad Tourist Center Tel. 011-972-8-695-9333
Southern Wall
Chevra L'Pituach Mizrach, tel. 011-972-2-627-7550
King David Hotel: www.danhotels.com
Helene Greenberg is a party planner, avid traveler, and freelance travel writer who lives on Long Island with her three youngest children and two horses. Although she does hope for world peace, the invention of a carbless bagel would be a close second. Contact Helene with any questions or comments: linyqueensgirl@aol.com.
To view the pages in pdf form, click here.