Printer-Friendly | E-Mail Article to a Friend Go Back

| | |
| --- | --- |
| by Lyla-Rose Barwick | December 22, 2010 |

The pressure of having a bat mitzvah is typically enormous. With the months of preparation, having to memorize prayer after prayer after prayer -- and let's not forget the big speech that you have to make -- it's not very hard to get completely overwhelmed. But in my case, I had even more tension.
My name is Lyla Rose-Barwick, and I'm a 7th grader who recently had my bat mitzvah. My name is actually a good place to start in telling you about my "extra tension." My mother's last name is Rose and my father's last name is Barwick, so I have a hyphenated last name. My mother and father are divorced and, on top of that stress in my family, my dad is neither Jewish nor American. My father lives in Nor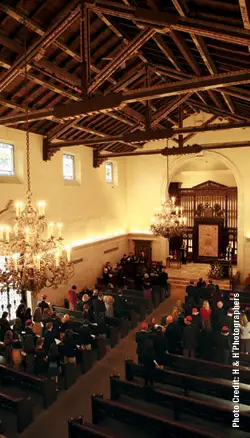 th Yorkshire, England. I used to live in London with my mother and father, but when my parents divorced my mother, my little sister and I moved back to New York. My mother's family is Jewish, but my dad's family is very different. No one on his side had ever been in a synagogue. My father was brought up in the Anglican Church. His mother took him to church a lot as a child. When he became an adult he decided he would not take part in organized religion of any kind, but he still celebrates Christmas every year. Even though my dad isn't religious, a lot of the rest of my English relatives are. My grandma goes to church quite often and my aunt is actually an Anglican priest. Since I love all of my relatives very much, of course I wanted them all at my bat mitzvah. The challenge, of course, was how to have a bat mitzvah ceremony that involved non-Jewish relatives.
When the time came to start organizing what people were going to do at my bat mitzvah, I thought it was going to be difficult to figure out. I thought that all of the prayers were religious and Jewish, and that it would be nearly impossible for my dad, who is not religious at all, to take part in the ceremony. But I thought wrong. The first thing I did (and what you should do, too, if you're having a bat mitzvah with non-Jewish relatives) was to ask relatives if they wanted to participate. Some non-Jewish or non-religious relatives may not feel comfortable going up and saying something or reciting words in front of a congregation where they don't belong or may feel comfortable. Sometimes they just want to be there for you and not necessarily take part. That's OK, too. Always ask first.
The second thing we did was consult the rabbi. We scheduled a meeting with the rabbi so we could talk to him about what we should do (that's a good idea - he or she can usually explain it all very well). He helped us a lot by talking us through the ceremony. My mom told him about all the relatives that were coming and he helped us figure out which prayers or blessings had to be said by a Jewish person (for example, the prayers over the reading of the Torah). Once we decided who should say each prayer and recite each blessing, we asked the rabbi if he knew some prayers or blessings that were not specifically Jewish. He did have some ideas, so we gave him a way of contacting my relatives in England. He got in touch with them, and all my English relatives wanted to take part! I wasn't sure if they would, but I was so happy to find out that they did.
It was great! My dad recited a blessing about family and also made a speech. It had nothing to do with religion, but reminded it us about how great and important family is. Even though my dad doesn't have a religion, he really felt like the service emotionally touched him. My grandma did another prayer that wasn't specifically Jewish, and it was very beautiful. Even my Aunt Sue, the Anglican priest, said a prayer about faith. The whole congregation seemed to really enjoy all three. The English accents were a big crowd pleaser, too! In the end, though, it doesn't matter what religion your relatives are, they all just want to be there for you and see you succeed.
My bat mitzvah experience was one that I will never forget. I couldn't have been happier than when I was in my synagogue surrounded by the people who loved and cared about me. I hope you will be as fortunate to be able to share your bar or bat mitzvah with the people you love.
To view the pages in pdf form, click here.