Printer-Friendly | E-Mail Article to a Friend Go Back

| | |
| --- | --- |
| by Stacey Levine | December 22, 2010 |

The 2006 movie "Keeping Up With the Steins" plays bar mitzvah extravagance for humor. The main character attempts to prepare for his bar mitzvah, but understands little of the meaning behind the words he will recite (since they're in Hebrew, he doesn't even understand the words themselves). Meanwhile, his parents are planning a ridiculously over-the-top party with little consideration for the significance of this Jewish milestone. The bar has been set high by another kid, who is depicted at his Titanic movi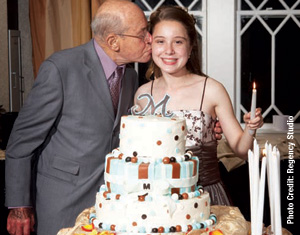 e-themed bar mitzvah entering the party room on a replica of the Titanic, accompanied by a killer whale wearing a yarmulke. It's meant as satire, of course, but the truth is, outrageous and even sacrilegious tendencies are common at bar and bat mitzvah parties these days.
While some families choose to reduce the religious aspect of their affairs because they are uncomfortable with it, or because they want to appeal to guests of all religious affiliations, others simply may overlook the reason for the party in the first place. However, it is certainly not necessary to remove Judaism from a bar mitzvah party for it to be elegant or lots of fun. Event planner Lynn Hirsh, of Here Comes the Planner in Eastchester, N.Y., believes that you can have a wonderful celebration with any theme, while still maintaining a reminder of the purpose of the celebration. She offers the idea of incorporating a mitzvah project into the theme of the event, by "collecting or purchasing items, placing them in a basket or vase, decorating them with balloons, and donating the items when celebration is over."
While Hirsh agrees that some families choose to minimize the religiousness of the affair and this is a personal decision, she is confident that there are numerous ways to create a fun party atmosphere while simultaneously celebrating the religious transition from childhood to adulthood.
A candle lighting ceremony is a traditional way for the bar mitzvah to honor his or her family and friends. Some families opt out of doing it, believing that it slows down the party atmosphere and is only of interest to those being honored. But the candle lighting ceremony, when done right, can truly enrich the holiness of the bar mitzvah. Including a candle to honor all of the children at the party - or even every guest - can help people who are not among the close family feel more of a connection to the ceremony.
Another way to bring an element of spirituality into even a very extravagant event is to honor important family members, particularly those who are no longer alive, through some token element in the décor. One family, for instance, honored a deceased grandmother named Goldie by adding a gold lace around the custom-made kippahs.
Rabbi David Kosak, of Beth El Synagogue in New Rochelle, believes in the essence of the bar mitzvah "is this public acceptance of Jewish responsibility." But he stresses that even the most lavish bar mitzvah celebration is capable of honoring its true meaning, which is that a bar or bat mitzvah kid has an obligation to accept the responsibilities of Jewish adulthood. "Families can nurture the spiritual awareness that we all must care for each other by emphasizing this point during their celebrations. Some families donate a percentage of their party's cost to tzedekah ... [or] commit the leftover catering food to a shelter."
So while the celebration certainly has the potential to surpass or even replace spirituality at bar and bat mitzvah parties, experts in both event planning and Jewish studies believe that it doesn't have to be that way. By incorporating traditional Jewish values into their celebrations, families can succeed in carrying on Judaism to future generations - and having an event to be remembered by all.
To view the pages in pdf form, click here.