Printer-Friendly | E-Mail Article to a Friend Go Back

| | |
| --- | --- |
| by Shira Nanus | December 22, 2010 |

"Resist the temptation to write and rewrite your child's d'var Torah. It always sounds better coming straight from the horse's mouth."
-- Bonnie Silverman, New Rochelle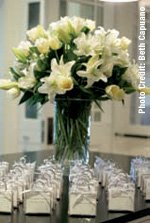 "Friends and family will often ask you what your child wants as a gift. Try and come up with something he really wants, otherwise you get a lot of duplicates and frequently can't return items. For boys, I would specify no watches (if they have one already), and no kiddush cups (if you know they are getting one already; often the synagogue presents a kiddush cup as a gift to the b'nai mitzvah). Gift certificates to places like the Apple store are great items. They are useful, any person would enjoy them, and you can never get too many."
-- Carol Schiller, New City
"Take this time to do a mitzvah project that the entire family can become involved in and committed to."
-- Frieda Kraft, Larchmont
"Find a beautician or hair stylist who will come to your home on Saturday afternoon if your celebration is Saturday night. It helps the last minute craziness."
-- Karen Tannenholtz, Teaneck, NJ
"Consider a non-traditional candle lighting, and don't feel that you have to make the speeches for each person too long."
-- Joan Trimble, Scarsdale
"Make sure to delete or discard old drafts of speeches and toasts! We ended up bringing a copy of a draft that was not quite as relevant as the final version. Oh, well!"
-- Jane Simonson, Suffern
"During the planning process, my husband and I spent a lot of time trying to keep our invitation list under control. At first we tried to limit our parents (the grandparents of the bar mitzvah boy) to very few of their own guests. We finally relented, and are glad that in the end we allowed them to invite a table of friends each. We realized that while our son's bar mitzvah was 'our' simcha, grandparents take great pride in the event and it was important that they be able to celebrate with their close friends. And, as it turned out, these friends had attended many of my son's other milestones as well, like his bris, and it was really nice to keep these extended 'family' members involved."
-- Sharon Navarro, Westport, CT
To view the pages in pdf form, click here.
"I'm sorry we didn't make a smaller party and travel to Israel as a family for my daughter's bat mitzvah. We did that for my older daughter when she was bat mitzvah-ed. It's easy to lose sight of the forest for the trees. If you have a smaller party and spend your time and resources in Israel, you can't go wrong. Your children may not thank you for it now, but someday they will."
-- Robin Libow, New City
To view the pages in pdf form, click here.