Printer-Friendly | E-Mail Article to a Friend Go Back

| | |
| --- | --- |
| by David Berger | December 22, 2010 |
Convincing your child to do homework is hard enough, but asking your son or daughter to prepare adequately for a bar/bat mitzvah may prove infinitely more challenging. Your child will be expected to read and perhaps memorize an eons-old text in a language that bears no resemblance to English whatsoever. Wha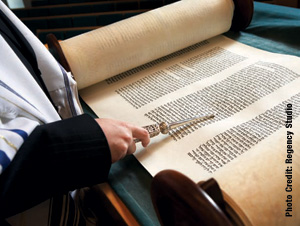 t's more, the texts are chanted in a song-like fashion, adding another level of complication and difficulty. The work is difficult and time consuming, and your child may be uninterested at first, but with proper coaching and motivating, even the least inclined student will emerge adequately prepared.
Just ask Jacob Hartman; he has tutored tons of bar/bat mitzvah students. Here are some tips he and others have given out to students to help get them ready to go on the big day:

Think About the Long-Term:
What you learn while preparing for your bar/bat mitzvah - including how to read trope - are potentially skills that can be useful for the rest of your life. That is, if you prepare properly. Hartman stresses to his students the need to learn the musical/vocal intonations behind the trope, which should be treated "like punctuation marks," he says. "Often when people read from the Torah they focus their attentions on singing the tune correctly instead of pausing where they should pause and connecting words that should be connected." Instead of memorizing it like a song, treating the trope as punctuation helps students gain a better grasp on the foundations of Torah reading in general. That way, they're more likely to become regular contributors to the Shabbat services. To ensure that the student remembers the trope long after the services, Hartman personally recommends having your child practice the trope in portions that were not assigned, as a way to make the trope more universal by separating it from the bar mitzvah portion.

Start Early:
Depending on your level of observance or your child's preferences, the amount of work that your child will take on to prepare for the bar/bat mitzvah will vary greatly. Some will choose to read the day's Torah portion in its entirety; others will simply choose to read their haftarah. Whatever the case, preparing early will help your son or daughter ease much of the stress that permeates throughout the bar/bat mitzvah day, while at the same time allowing for a chance to perfect the readings. Your child may be surprised to find that he/she actually likes reading the portion, and may, in fact, want to read more.

Learn About Your Portion:
Try to have your child read about his/her portion (parasha in Hebrew) and learn the story or subject matter in which the portion deals. By generating a foundation of interest in the parasha's subject, the hours of studying will feel more meaningful and relevant. In fact, Hartman reasons that when a student's interest in a topic is developed, his/her newfound knowledge, "will also add more depth to their reading, both for themselves and for the congregants who are listening." Encourage your child to read the translation and commentary in the Humash (the book containing the Torah used by synagogue congregants). There are many resources easily available on the Internet, and your congregation's rabbi will certainly be willing to help your son or daughter learn about the Torah portion.

Have Your Child Read to an Audience:
This is another good way to relieve the jitters. Your child may well benefit from a few dry runs before the bar/bat mitzvah weekend arrives. Suggest to your child that he/she read in front of you or other family members (don't embarrass him/her by suggesting friends!) so that your child can have a better feel of what the atmosphere during the service will be like that day. If possible, ask your cantor or tutor if you could even have your child rehearse in the synagogue's sanctuary. Familiarity can be very helpful as your child tries to overcome anxiety with what may be his/her first public speaking event. Also, a second or third set of ears to listen to your child may be able to point out mistakes that someone else may have missed.

Play to Your Child's Strengths:
For motivation, use tactics that take advantage of things to which your son or daughter responds best. If it's competition, try learning the same portions, as a kind of race to see who can master it first; if your child does better with due dates and deadlines, implement those. The goal should be that your son or daughter becomes comfortable enough in the foreign surroundings of ancient Hebrew that he/she is able to treat the assignment with the same kind of enthusiasm as other work that may be more appealing from the get-go. By sparking a legitimate interest in completing the task at hand, your child will be less resentful of the work, all while your job as a parent becomes a little bit easier.
To view the pages in pdf form, click here.