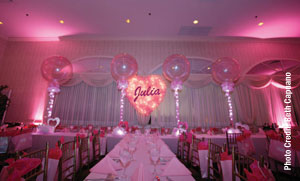 The current imperative to "go green" has not been overlooked by the bar and bat mitzvah industry. Some acknowledgement of environmentalism can be found in just about every company offering event services, from party planning to catering and entertainment. Often, this greening of the b'nai mitzvah is spurred by young people themselves, who have a considerable amount of input in planning their parties and are increasingly aware of environmental issues. Many parents, of course, are proud to assist their children in this healthy practice.
Here's just a brief overview of some of the many ways that bar and bat mitzvah parties are going green:
Menu
Organic options for dinner or appetizers are becoming increasingly popular and can be found on the menus of many caterers. Some caterers even make a point of highlighting organic selections on the place cards identifying dishes. Although alcohol is still the norm, of course, juice bars using all-natural products, as well as organic teas and coffees, are becoming a popular addition to the offerings. And, according to Kurt Bohlsen, owner of Prime in Huntington, Long Island, free-range chicken has become a very popular menu choice, as has lighter, healthier options.
Lena Seiter, catering manager of Restaurant Management Inc., has reported that sparkling beverages and, soon, antioxidant-rich beverages will be served in refillable carafes, which will get returned to suppliers to be recycled and reused. Her restaurants also offer a "pink" menu, which includes antioxidant ingredients and helps to support breast cancer research.
Favors
Entertainment companies have noticed a growing trend in requests for biodegradable paper for giveaways and wrappings, in addition to eco-friendly lighting equipment. All-natural baked goods and candy and bottled water in safe plastic bottles are popular requests. Even organic henna tattooing has a raised profile these days. Another good idea gaining traction: Party hosts are enclosing thank-you cards in the goodie bag rather than mailing them, which saves on paper (and the paper that is used, of course, can be made with recycled material).
Transportation
Given fuel costs and pollution concerns, attempts are being made to limit the number of vehicles driving between events. For some, this means going without a "party bus" that may be more for fun than necessity. For others, it means getting that party bus so that each invited kid doesn't need to have a parent chauffeur.
Other solutions include finding party spaces in walking distance to the synagogue or having the service and party in one place. In some cases, hosts have requested that invited guests carpool, and have facilitated the effort by making connections among guests who live near one another or are staying in the same hotel. And, according to Ray Toca of Paradise Limousines, families are requesting hybrid modes of transportation to cut down on fuel usage and pollution.
Invitations
The trend in invitations - toward more simplistic, minimalist types of cards - fits in well with the green outlook. Recycled paper is a popular option, of course, and choices such as using "self-mailer" invitations and omitting unnecessary guest cards and response cards can also help the cause. Invitation shops and printers also report an increase in the choice of earth tones, both as a matter of taste and to limit the use of dyes.
While mailed invitations remain the standard, using online correspondence for invites and responses is also gaining acceptance due to environmental concerns. Lee Wolfson, owner of Budget Printing in Smithtown, has seen a reduction in the use of response cards. According to Wolfson, e-mail is becoming an acceptable mode of response, even for formal events.
Photography
Pictures, pictures and more pictures. This will never change. However, several New York-area photo studios report that families are requesting fewer photo sets in the form of albums and more in a digital format. At the very least, photographers have widely embraced the paper-saving practice of providing proofs digitally. Photographers also report a trend toward more natural settings and candid shots, which may reflect a newfound environmental outlook.
Gifts
The effort to call people's attention to the importance of a more eco-friendly planet shows up in many aspects of gift giving. Registries, though more common for weddings than b'nai mitzvah, help limit the waste (paper, fuel) associated with gift returns or doubles. Cutting down on packaging and wrapping paper, or using recycled and recyclable materials, also helps lessen the impact on the environment. And many young people are now requesting that donations be made to their favorite environmental cause, giving parents further cause to be proud of their children.
Besides making real strides toward slowing the depletion of resources and renewing our planet, these b'nai mitzvah party trends have the effect of simply increasing awareness and fostering positive connections between this important coming-of-age event and an acceptance of responsibility for the planet. As eco-friendly approaches begin to seep into every aspect of our lives, it is only natural that they would become a part of the mix in planning a bar or bat mitzvah.
________
Helene Greenberg is a party planner, avid traveler and freelance travel writer who lives on Long Island with her three youngest children. Contact Helene with any questions or comments at linyqueensgirl@aol.com.
To view the pages in pdf form, click here.