When your child shines in the spotlight as a bar or bat mitzvah, no parent could possibly be more proud than you are! Then, of course, there is the party - when the bar or bat mitzvah child is finally able to relax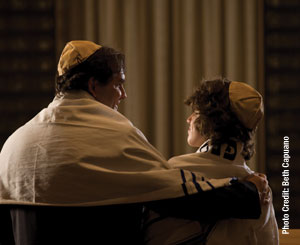 and celebrate his or her achievement with family and friends. There is rarely a more joyous occasion than a bar or bat mitzvah party - I know, I've had two and I'm planning my third.
But wait, there's another side to this story. It takes a serious amount of energy and patience to prepare a child for a bar or bat mitzvah. It also takes a great deal of organization, time and creativity to execute a party. This means that behind every terrifically prepared 13 year old and every fabulous party is a parent that is stressed to the max by the time the big day rolls around. In fact, this stress can detract from your enjoyment of your child's journey and celebration. I would therefore like to offer you - the hard-working bar or bat mitzvah parent - a little gift before your child begins to receive his or her presents. By following these five steps, you will be able to focus more on having fun and less on feeling anxious and frazzled.
1.
Beginning at least six months before the
big day, carve out enough time in your child's schedule each week to practice.
Approach it just as you do homework and other activities: as a real commitment. Most kids do better with short, frequent practices, rather than long, occasional ones. Sometimes, as you get closer to the bar/bat mitzvah, providing your child with extra tutoring, in addition to the regular weekly lesson can make all the difference. The more prepared your child is, the less anxious you will be.
2.
When planning and executing your party, solicit advice and assistance.
This may mean hiring an entertainment company, getting advice from friends who have already had bnai mitzvot, recruiting your mom to babysit while you run to appointments with the caterer, or all of the above. There is no shame in asking for help. In fact, if you can afford it, professional help can sometimes save you money in the end because you may avoid costly mistakes.
3.
Involve your child but don't let him or her run the show.
It is important for your child to make some of the choices including: choosing the theme of the party, picking out his or her clothes, or writing the speech to be given at the synagogue or party. However, the major decisions - particularly those that involve spending money - should be made by adults. If necessary, explain the budget to your child (in either specific or general terms) including all attire, food,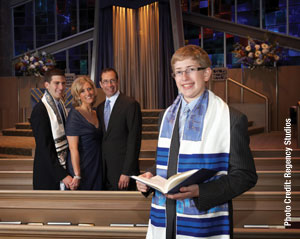 entertainment, flowers and parting gifts. Your child may want to negotiate with you to spend more on one item and less on another. Depending on which areas you consider important, you may or may not be open to negotiation. Having these conversations as early as possible is important, in order to avoid misunderstandings that will lead to you becoming stressed and unable to enjoy yourself.
4.
Expect at least one guest to complain...and you won't be disappointed!
Above all other stressful situations reported to me by parents planning bar and bat mitzvahs, the most upsetting is the disappointment they feel when a friend or family member behaves in a way that lets them down. Guests may complain because they aren't seated at the right table or because they don't feel they have been honored sufficiently by the bar/bat mitzvah child. Perhaps they are unhappy that not all members of their family were invited to the party or find the venue is inconvenient for them. The larger your event, the more likely it is that there will be a complainer.
Of course, if you feel that you did inadvertently hurt someone's feelings, apologize graciously and sincerely. Other than this, remember it is your celebration and you should stay focused on the importance of occasion you are marking: a true milestone in the life of your child and your family. A guest that loses sight of this by behaving in a critical or intolerant manner is not someone over whom you should allow yourself to become upset. Nonetheless, I advise you to expect it, because if you prepare yourself for at least one negative experience, and you can take it in your stride, it will not detract from your enjoyment, nor will it increase your stress. Also, remember, once the event is over, both your and their feelings will subside, so don't say anything that you will regret later - even if they did.
5. Make lists and keep notes.
The more organized you are, the less overwhelmed you will feel. This will keep you feeling in control. Create a folder to keep contracts, notes, lists and everything else related to the bar or bat mitzvah. As soon as your child starts receiving gifts, promptly write the name of the giver and the specific gift in a specifically designated notebook. Encourage your child to immediately start writing thank-you notes for gifts received before the big day - it will be that much less for you to nag about afterwards (and, believe me, thank-you note writing requires a LOT of nagging, but is an essential task that every child should complete).
________

Dr. Susan Bartell is the author of a syndicated column and several books including her most recent The Top 50 Questions Kids Ask series. You can learn more about her at www.drsusanbartell.com.
To view the pages in pdf form, click here.