Thirteen-year-old twins Allison and Bradley Levitt had two b'nai mitzvah parties. One was at Caroline's Comedy Club and the other was at the Jewish Child Care Association's Edenwald Center, a co-ed residential treatment center in Westchester that cares for more than 100 young people with emotional and cognitive difficulties. The twins were there for a ceremony recognizing the donation of their b'nai mitzvah gifts. The money funded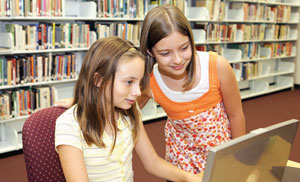 new televisions and Wii consoles for the rec room, Smart Boards for the on-site school, and 42-inch flat-screen televisions and DVD libraries for each of Edenwald Center's residential cottages. As their proud parents looked on, Allison and Bradley played the Wii and shared refreshments with residents, fulfilled by the knowledge that their transition to Jewish adulthood became an opportunity to make a difference in the lives of those less fortunate.
The Levitts represent a growing number of teens who are marking their bar or bat mitzvah by donating time and money to good causes. The Levitts found out about the needs at Edenwald Center though UJA-Federation of New York's Give a Mitzvah - Do a Mitzvah program, which identifies mitzvah projects based on teens' particular interests. In meetings with a personal "mitzvah coordinator," teens learn about opportunities to help those in need in New York, Israel or around the world. Once they choose a project, their involvement can take many forms - donating some or all of their bar/bat mitzvah gifts; asking guests to make donations; creating related centerpieces, such as a wrapped baskets of toys that can be given to children in need; or volunteering at their selected agency on a one-time or ongoing basis.
Many synagogues, Hebrew schools and day schools also help b'nai mitzvah students learn about mitzvah projects. Some institutions host a "mitzvah fair" where representatives from a variety of agencies present their funding and volunteer needs. Regardless of which project a teen ultimately selects, the experience of identifying a need they can help fill is empowering, teaching them that they can make a difference in the world even at a young age.
A mitzvah project need not end with the bar or bat mitzvah. Marking one's entrance into Jewish adulthood by helping those in need sets a precedent that can be continued for years to come. Many teens stay involved with their selected organization, volunteering throughout their high school careers.
B'nai mitzvah projects have also become the launching pad for involvement in community service clubs, youth group social action projects and more. To follow-up on its Give a Mitzvah - Do a Mitzvah program, UJA-Federation of New York is in the process of designing a Teen Philanthropy Program for 9th to 12th graders that would enable them to pool funds (which will most likely be matched by adult philanthropists), learn about agencies and projects in need of support, conduct site visits, and make funding-allocation decisions - all the while learning about the connection between Judaism and helping those in need.
Emphasizing the "mitzvah" component of a bar or bat mitzvah has become an increasingly important part of marking this special milestone. While it can be easy to become consumed by the logistics associated with planning a bar or bat mitzvah celebration, families and teens who have devoted significant time to a mitzvah project report feeling rewarded far beyond their initial expectations.
________
Kerry Newman is Senior Writer in the Capital Gifts & Special Initiatives Department at UJA-Federation of New York. For help identifying a mitzvah project for your child, ask a representative from your synagogue or child's school, or contact UJA-Federation of New York's Give a Mitzvah - Do a Mitzvah program at 212.836.1257 or mitzvah@ujafedny.org.
To view the pages in pdf form, click here.