It's a common observation that synagogue congregants can usually spot the non-Jewish guests during a bar or bat mitzvah service - they're typically on time and they sit quietly. But, for some families, their non-Jewish relatives don't necessarily want to stand out; rather, they would like to blend in. Life-cycle events provide a natural time to not only introduce family members to Jewish traditions, but also include them.
Depending on your synagogue's affiliation and traditions, non-Jewish parent and family members will be able to participate in varying degrees. Some will have both parents take part in the tallit presentation and have them both recite schechyanu (a prayer marking the arrival of a special time). When it's time to bless the child, most congregations are fine with the Jewish parent reciting the prayer in Hebrew and having the non-Jewish parent recite the prayer in English. And some synagogues allow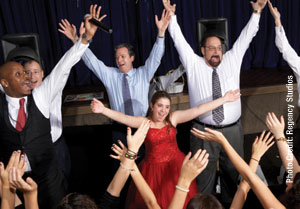 the non-Jewish grandparents to open the ark for the traditional passing of the Torah - from the Jewish grandparents, through the generations, down to the child. At some point during the service, most rabbis will acknowledge joy and appreciation that this family has chosen to raise their children in the Jewish faith - offering a special nod to the non-Jewish side. The key is to include the non-Jewish parent and their family and not to embarrass them, a lesson retired Rabbi Norman Patz shared with his rabbinic students.
One of those students, Rabbi Judi Beiner, whose career has taken her from Denver to Kansas City and Atlanta, has officiated over many simchas and counseled countless interfaith couples as they embarked on building a Jewish home and raising a Jewish family. One of the things that strikes her after she explains the limitation of what the non-Jewish parent can do during their child's bar or bat mitzvah, is that more often than not it is the Jewish partner who has the problem with it - the non-Jewish partner more readily accepts the boundaries. Once the level of participation is defined, she advises families not to focus on the restrictions, but rather put their energy on creative solutions.
Jon Amsler met his wife Susan when they were both buyers at a department store. They were married 25 years ago by a judge in Susan's home and, five years later, they welcomed the first of two sons they'd have over the next two years. Jon was fine with raising their children Jewish, but it wasn't until the couple was married for 18 years that Jon converted. He wanted to reach this decision on his own without the pressure of converting before their wedding. His sons were 10 and 11 at the time and plans were underway for the brothers to celebrate their bar mitzvahs together. Jon thought this would be a wonderful time for him to become a bar mitzvah, and so father and sons reached this momentous occasion together. Jon lost his father when he was 19 and throughout his childhood, his family attended the local church in the various places they lived - sometimes changing denominations. His mother, a devout Methodist, was pleased that Jon found a faith.
The family had always extended invitations to Jon's non-Jewish relatives for celebrations in their home and their b'nai mitzvah would be no exception. During the service, Jon's mom recited the following poem as the Torah was passed down:
Oh God, we have tendered with hope
The seed of our youth.
We have watched from springtime,
the ripening and growth.

Now come the harvest days and our child stands before You.
Bless this life with wisdom to serve You with love.
A Jewish home opens its heart,
a child is born and its link
to the generations is proclaimed.
Today, that child, nearly grown
is called to read from the Torah
and is welcomed into the congregation.
May this moment in time be blessed.
While many families struggle to keep things fair by trying to assign equal parts of the service, keep in mind that while Aunt Esther might be more willing to take on a speaking role, Aunt Christine might not. It's always essential to ask first and gauge comfort levels. The written word is an excellent tool to explain the traditions, and many families design and produce a program that explains who is doing what and why. Congregants on both sides of the aisle enjoy these programs - they not only offer explanations to visitors, but also introduce the family's visiting members to the congregation.
But regardless of a synagogue's traditions regarding the rules of religious services, rabbis will agree that Judaism is not a solo or a spectator sport. They will often urge families and congregations to include non-Jewish partners beyond the rituals and find ways for them to participate in synagogue life outside of the sanctuary. The idea is that the sanctuary is just one room in the building; there are other places and spaces to contribute talent and curiosity, as well as foster belonging.
________
Marla Shavin is an Atlanta-based freelance writer, television producer and public relations consultant. She can also list planning two Bat Mitzvahs and one Bar Mitzvah as major accomplishments and three of her all-time favorite days.
To view the pages in pdf form, click here.