When Joel Axler and Louise Short sat down to plan their youngest daughter's bat mitzvah they knew they wanted to do something different. Eden's bat mitzvah would be their third simcha in four years and they wanted to make it stand out. In addition to being very active in their synagogue, all three of their daughters attended Jewish day schools, which made this family well-traveled on the b'nai mitzvah circuit.
Joel didn't have to look very far for inspiration; he turned to his own family tree and had an "aha" moment. He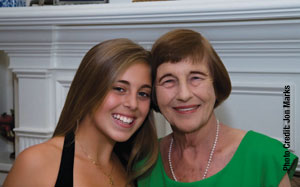 thought it would be so meaningful to have the youngest member of his family share the limelight with the oldest member - his mother, who had never had a bat mitzvah of her own. Eden loved the idea and, while sharing the day with her sister who is almost two years older never appealed to her, sharing with her grandmother was a no-brainer. Grandma Bea was not only her special person, but over the years she became the surrogate grandma to many of their family's friends who did not have grandparents nearby.
The Axlers knew that their guests would delight in watching Eden and Bea take their places on the bimah, but they still needed to get this independent and spirited matriarch's buy-in. She was shocked and amazed by their offer and agreed under two conditions: She didn't want to steal Eden's thunder and, just like her teenage counterparts, she really didn't want to have to study too much.
Many families who want to combine generations or include family members in the Torah service during a bar or bat mitzvah will take the opportunity and land on a date that allows them to "anniversary" the parent or grandparent's Torah portion. One family of four children celebrated their b'nai mitzvot during the yearly recurrence of Parasha Noach, enabling each one to have a Torah reading that was familiar and meaningful for them.
In the case of Grandma Bea and Eden, there was no anniversary to celebrate. It wasn't customary for women of Bea's generation to become a bat mitzvah. While the tradition of boys becoming a bar mitzvah dates back to Talmudic times, the bat mitzvah is a relatively new practice. In Jewish law, a girl reaches maturity at age 12 but, until the invention of bat mitzvah, there was no ritual ceremony to mark this rite of passage.
According to the American Jewish Historical Society, the first American bat mitzvah took place on March 18, 1922, when the 12-year-old daughter of Rabbi Mordecai M. Kaplan, the founder of Reconstructionist Judaism, stepped to the bimah of her father's synagogue. She recited the preliminary blessing, read a portion of the Torah, and then recited the closing blessing. What happened that morning set the model for what has now become a widespread American Jewish practice.
Rabbi Kaplan intended for the bat mitzvah service to give females equal standing with males and to encourage Jewish education for women so they would, in the spirit of continuity, be better equipped to share and pass along these teachings to their children. Change came gradually and by 1950, one-third of Conservative and Reform congregations conducted bat mitzvah services. By the 1960s, the ceremony became the norm. Many modern Orthodox congregations have now adopted some form of bat mitzvah as well.
From a ritual standpoint, the earliest American bat mitzvot were not quite the same as bar mitzvot. They were typically held on Friday nights, when the Torah is not read or, if it occurred on Saturday morning, the bat mitzvah girl would read from a printed chumash, or book containing the Bible, rather than from the Torah scroll itself.
Bea was raised in an orthodox home and, per her father's wishes, she attended Hebrew school. She was the only girl in her class and recalls that the boys pretty much ignored her. Marriage and motherhood kept her busy raising five children and, later, celebrating the joys and simchas that 11 grandchildren would bring. The thought of planning and preparing her own bat mitzvah truly never crossed her mind. At around the same time her son approached her with his idea, she had just joined a study group at her synagogue. The timing was right for Bea to study for her own bat mitzvah.
The family met with their rabbi and determined that the best way to approach the weekend would be to have the Friday night service focused on Bea and Saturday morning's on Eden. During the Friday night service, Grandma Bea led the candle-lighting, her son and daughter-in-law presented her with her tallit, and she read a Psalm for Shabbat on both Friday night and again on Saturday morning. On Shabbat morning, Eden led prayers and read Torah, while Grandma Bea joined Eden on the bimah for one of Eden's Torah readings. They ended by leading a closing prayer together.
Their b'nai mitzvot fell on the Sabbath just before Rosh Hashanah - the Parasha Nitzavim-Vayelech from the book of Deuteronomy. As the family explained in their program, this parsha includes some of the most fundamental principles of the Jewish faith: the critical act of passing down the covenant from generation to generation as Moses gives the torch of leadership to Yehoshua, asking the Jewish people to be strong and brave under his successor - a message most fitting for simcha celebrating L'dor v dor, the passage of generations.
To view the pages in pdf form, click here.