Hope, a very organized mother of two girls, had it all under control - the invitations were out and she was busy managing the last minute details. The RSVPs were starting to trickle in, creating anticipation and joy. She was just six weeks away from her youngest daughter's bat mitzvah when she was blindsided by a phone call. Hope's mother, who just the week before played 18 holes of golf, experienced stroke-like symptoms that drove her immediately to her physician. Tests concluded she had metastatic lung cancer and needed to start an aggressive form of treatment immediately. Worrie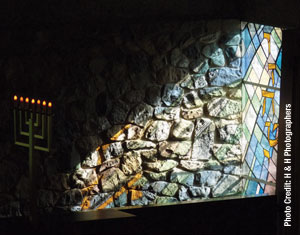 d that her mom wouldn't be able to attend her daughter's bat mitzvah, Hope reached out to her rabbi who offered a promising solution: they would stream the simcha "live" on the web, enabling the bat mitzvah girl's grandmother to watch her granddaughter on a bimah nearly 600 miles away from her home in Florida.
The necessary technology was generously donated by a synagogue member who owns a production company and serves on the synagogue's marketing committee. He knew firsthand the importance of sharing special occasions with grandparents. His son celebrated his bar mitzvah with all four of his grandparents, but within the three years between his and his younger sister's bat mitzvah, both of their paternal grandparents had passed away. This member wanted other families to be able to cherish and share these milestones while they still could. In addition to providing the equipment, he also covered the cost of an independent IT professional to update the synagogue's server so that a clear audio and video signal could be transmitted. The set-up includes a hi-definition camera designed for web transmission with the capability of mixing the audio signals before it is sent out. The camera is technically always on; all it takes is one keystroke to broadcast the service.
While many rabbis recognize that technology is changing, halachah (Jewish law) is not. More traditional synagogues will simply not allow technology to be operated on Shabbat, while Reform temples may not have a problem with it at all. For those in between, many will acknowledge that there's the letter of the law and then there's the spirit of the law. Rabbi Joshua Heller, a member of the Committee of Jewish Law and Standards of the (Conservative) Rabbinical Assembly, explained that there are no less than eight rabbinical opinions on video transmission on Shabbat. One key opinion permits it, provided that the equipment is set up before Shabbat and the service is not being recorded. Videotaping is largely not permitted because it involves the prohibition against writing as well as the possibility of completing a creative act.
For the majority of congregations that will allow video streaming under certain circumstances, two guidelines are followed:

1.The use of technology should not disturb the sanctity of the service and should be set-up in non-obstructive way. Preferably a tripod or permanent mount should be used, but in the case of requiring a photographer or videographer to be present, they should be in the background or on a balcony - clearly out of the way. Some rabbis find the clicking shutter on a still camera's lens to be a distraction, as it creates a paparazzi feel to the service, underscoring that this is religious rite of passage, not a performance.

2. The use of technology should be considered on an individual basis. It should enhance the possibility of bringing a religious experience to those who cannot be there, but not become a convenient replacement for not attending a service. In other words, use only as a last resort.
While the airwaves are typically filled with church services on most days of the week, Rabbi Shalom Lewis of Congregation Etz Chaim in suburban Atlanta said that some of his Christian colleagues are concerned that this practice can break down the concept of community and have a negative impact on church attendance. He also recalled a situation he confronted a few years ago when faced with a congregant's request to have a bar mitzvah broadcast. The child's mother was battling terminal cancer and was undergoing treatment in Dallas, with one of her scheduled treatments falling on the same weekend as her son's bar mitzvah. Rabbi Lewis called a meeting of the synagogue's religious committee, comprised of members with varying levels of observance and points of view. This committee unanimously agreed to allow for the service to be shared over the Internet so the mother could witness this divine and defining moment in her son's life. But they made it clear that decisions like this would be reviewed on a case-by-case basis and that their decision was not precedent setting.
As it turned out, circumstances shifted and the mother was able to attend her son's service in synagogue that Shabbat morning. In Hope's situation, the Internet was ultimately not needed either. Sadly, Hope's mother passed away nine days before her granddaughter's bat mitzvah. But due to their synagogue's willingness to accommodate their extenuating circumstances, the ability to share a simcha via the Internet could be available for other families faced with a similar scenario.
To view the pages in pdf form, click here.